NEWS
Red Carpet Confidential: Gossip Girl's Kelly Rutherford: Why I Waited To Botox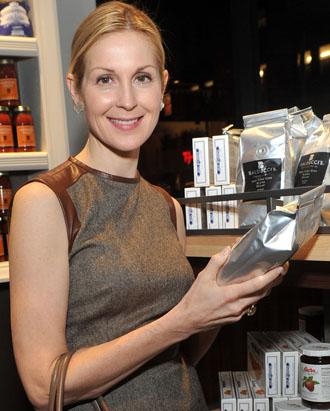 Gossip Girl star Kelly Rutherford looked fresher than ever this week when she stopped by the grand opening of Balducci's Gourmet On The Go Café at the Hearst Building in NYC. She picked up two bags of gourmet chocolate bunnies and chicks to create Easter baskets for son Hermes, 5, and daughter Helena, 3.
Putting family first is a top priority for the 43-year-old actress, who defies Hollywood stereotypes when it comes to her anti-aging regimen.
Article continues below advertisement
OK! GALLERY: GOSSIP GIRL'S KELLY RUTHERFORD INDULGES AT THE GRAND OPENING OF BALDUCCI'S NEW CAFÉ!
Despite the pressure to look young, the single mom waited until after her kids arrived to start Botoxing.
"I figure your body goes through so many changes when you're pregnant and you're nursing," she tells me. "It's actually my mother's advice: Wait until a year or two after you've had your children, after you breastfed, to do anything, because your body goes through so much anyway. I listened to her advice, and I'm glad I did. There are benefits to maybe starting things younger or earlier, but for me, I tend to do things the most natural way possible. I'm at an age now where it makes sense to do it."
Article continues below advertisement
Overall, she is pleased with the results.
"It's great. I'm starting to do a little bit of it. I had friends who started much earlier, and there are pros and cons with that. Then, you don't really get the wrinkles. But I go in and have a little bit here and there. It's preventative."
Not only does Botox take the years away, but the procedure even makes her feel happier!
"It feels nice," she says. "My mother's hysterical. She sends me studies of how it instantly makes you happy because you can't frown. It's proven that emotionally you're happier, which I think is very funny. I'm a believer that if it makes you feel better, then do it. It's not doing harm to anybody. We all want to look our best."
But that's not the only way Kelly turns back the clock.
"I think being happy, and finding things you love to do accomplishes that. Being creative, and being fully expressed and giving back is such a joy. Especially once you have kids, you realize that."
Before she jetted home to tuck her kids in for the night, Kelly sipped champagne and snacked on freshly sliced prosciutto, gourmet cheeses and strawberries. Plus, she indulged in a macaron. Mmm!