NEWS
Red Carpet Confidential: 'Harry Potter' Grows Up, Sprouts 'Twilight'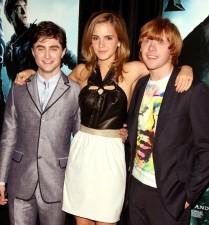 If Daniel Radcliffe knew he'd be kissing co-star Bonnie Wright when the Harry Potter franchise first began, wonder how he'd react? He was 12 when the movie debuted in 2001.
Now approaching his 20th birthday next week, the Brit actor confesses he got ready for the liplock with "plenty of courtesy gum" during the Harry Potter and the Half-Blood Prince premiere held at NYC's Ziegfeld Theatre.
Bonnie tells me, "It was weird because we've known each other for so long. It was so strange to finally have to have this moment. But, I think, you have to believe in this whole magic that's happening behind you in this bubble when you're in the middle of the set, and you sort of forget everyone around you and get on with the scene.
Article continues below advertisement
Was Daniel a good kisser? Surely the throngs of cheering fans holding up signs that say things like "Harry Potter, will you marry me?" hope so.
"Yeah!" she says enthusiastically. "Definitely. You couldn't say the hero of the story was a bad kisser. I don't know, it's so weird when you're filming, it's quite mechanical when you're doing a shot like that."
Daniel's not the only star coming of age in the flick. Emma Watson, who looks gorgeous and grownup in a backless white dress, and Rupert Grint get romantic, too. "It's a weird thing," swine-flu recovered Rupert tells me. "You've gotta relax, and not be too self-conscious."
Will Daniel miss playing Harry?
"Of course, yeah, but I'll be ready, I think, as well," the kind, polite actor tells me. "I just want to keep working. I've got a couple of things planned, and I'm really hoping that they come off. I'm attached to do one thing called The Journey is the Destination, which, when the script is all finalized, should be great. It's a true story about a guy called Dan Eldon. It's a true story about a war photographer who was killed in Somalia at the age of 23, I believe."
Article continues below advertisement
While he's in NYC, Daniel tells me won't be seeing his former Potter co-star Rob Pattinson because he's in town for just one day.
Although Rob's character died in Harry Potter and the Order of The Phoenix, is it possible he'll come back to life in Harry Potter and the Deathly Hallows?
"He obviously didn't die," producer David Barron tells me. "He came back as a vampire. laughs No, that character died, and unlike Twilight, he won't be coming back in ours."
That doesn't rule him out for future projects, though.
"He's a lovely guy and a very talented actor, and we really enjoyed working with him, and we look forward to working with him on something else we hope – if we're lucky enough," he says.
Bleached blond Tom Felton, who plays the evil Draco Malfoy, gets screams rivaling Daniel and Rupert's when he arrives to the premiere. "I've been told the bad boys get the girls, but this is the first real evidence," he says.
Article continues below advertisement
Does he find that fans get mad at him? "If they're seven and under, yes, they can get into 'leave Harry alone' style assaults. What can I say?" But in real life, Tom and Daniel are pals. "We're great friends. We both love cricket, so we're both enjoying the cricket season this year."
What would surprise us about Daniel?
"He's got an incredibly eclectic knowledge, and it seems to me like he's been here before," director David Yates tells me. "It's a really weird thing. I'm 45, and he's like 18, 19, and yet he has this encyclopedic knowledge of TV shows from the 70s, for example, and he's got a really wonderful knowledge of poetry. He's hugely knowledgeable, and he's a really sweet guy. A real diplomat."
Harry Potter and the Half-Blood Prince hits theaters today.