NEWS
Red Carpet Confidential: At Home With Martina McBride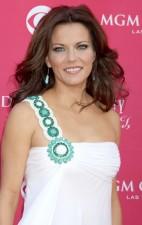 Martina McBride sings her heart out during CMA Music Festival: Country's Night To Rock airing tonight on ABC.
The mom of three, who has been married to hubby John since 1989, takes me on a tour of her Nashville-area home.
"Our house is big, but it's really comfortable and very homey," the kind, caring Southern songbird, 43, explains. "It's not precious or imposing or anything like that. We have three kids that are running around here, and at any time there is feet on the floor. It feels like a family lives here, and I love that. I think people feel really welcome when they come in."
Article continues below advertisement
She continues, "There's a little spot in the kitchen by the fireplace, and I like to read and sit. That's probably my favorite place – the kitchen."
What are her specialty dishes?
"I make a good chicken and sausage gumbo, good lasagna, good pot roast," she tells me. "Probably maybe my pot roast is the best. I learned how to make it from my mom, so it's been passed down."
And for breakfast, she starts her day in a common way. "Toast -- with lots of butter."
Here's a photo of Martina and I:
When the busy entertainer gets a free moment, she likes to unwind.
"I like to read. I read All Over But The Shoutin.' It's a memoir by Rick Bragg that I really like. That was a good book. I love to take a hot bath, I love to cook, and hang out at home."
She also likes to invite pal Faith Hill over for fun times. Martina's daughters -- Delaney, 14, Emma, 11 and Ava, 4 -- get along well with Faith's girls Gracie, 12, Maggie, 11 and Audrey, 7.
Article continues below advertisement
"Faith and I are friends," she says. "We've been friends for a long time. We have a lot in common. We have three daughters and we both are in the music business obviously. Other things that we have in common are we both love to cook, shop and decorate. We've been friends for a long time. She's a really good person, and we like being around each other."
There's no place like home for the woman famous for songs including Love's The Only House.
Pick up the OK! on newsstands now for a Last Word interview with Martina. "Angie Tells Brad: Sleep On The Couch!" is the cover line. And, check out Martina during the CMA Music Festival: Country's Night To Rock airing at 8pm on ABC.