NEWS
Red Carpet Confidential: How Jenny McCarthy Maintains Her Hot Bod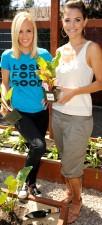 The scale is constantly in flux for many women, but Jenny McCarthy has discovered the key to keeping her 5'6" frame at her ideal 125 lb. weight.
The actress/activist, 36, who is a spokeswoman for Lose For Good (pictured here with Maria Menounos), shares her daily diet.
Beware – Jenny avoids wheat, dairy and sugar.
"Well, I do have my splurge moments," Jim Carrey's girlfriend tells me. "I don't want to say 'never eat never.' I do go home and visit my mom and have some pizza. But on an everyday basis, I don't eat wheat, dairy or sugar. I have fruit for breakfast, for lunch I'll have a salad with walnuts – maybe some turkey or chicken inside the salad, then I'll have some fruit midday, and then for dinner I'll have some grains or fish or a little turkey or something like that. As you can tell, there's not a lot of carbs that I'm eating. Not a lot of starches. I'm eating a lot of fruits, vegetables and protein."
Article continues below advertisement
She calls watermelon her favorite healthy snack.
"It's a really great filler without adding a lot of calories to your body."
Jenny, who lost 60 lbs. on Weight Watchers after the birth of her seven-year-old son Evan, calls herself a "lifer" of the regimen.
"What it taught me is portion control and choosing better foods," she tells me. "I used to fill up on potato chips and bad food, and it taught me to fill up on fruits and vegetables while still being able to have my pizza or whatever else I wanted that was naughty. It taught me to limit the amount of bad foods, but also eat healthier."
She continues, "I maintain this 125 lb. frame by watching my food. I know my points that go with my food from Weight Watchers now by heart. I just make sure I don't go over that limit in a day. It's very easy once you get the method down."
For Maria, eating healthy has become a way of life after she lost 40 lbs. in college.
"I was disappointed at different times when I tried clothes on and they didn't fit," the Access Hollywood reporter, 31, tells me. "When I lost the weight, I was happy and proud of myself because I knew it was a big accomplishment. And I knew I wanted to be in this business and it wasn't healthy. My dad is diabetic, and I knew it was something I was prone to. It was a real big decision on my part to take it down a notch and make sure I stayed as healthy as I could."
Article continues below advertisement
It's no wonder a "lifer" like Jenny has signed on to support the Lose For Good campaign, which is going on now through October 17. As members drop pounds, the program will donate up to $1 million to fight hunger locally and globally through partnerships with Share Our Strength and Action Against Hunger.
"Last year, the combined weight loss total was 4 million pounds the members lost, and we donated $1 million," she says. "And, for every pound you lose, you bring in a pound of food to your meetings, which them goes to food drives in your local area."
Find out how you can get involved at loseforgood.com. And, pick up the OK! on newsstands now to find out how to snack smart like the stars. The cover line is "Rob and Kristen: Engaged!"