NEWS
Red Carpet Confidential: How 'Real Housewives' Broke Free From Domestic Abuse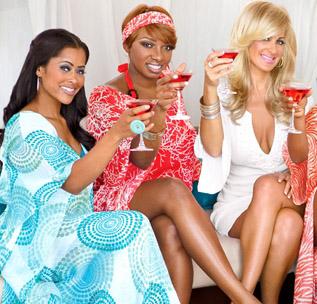 The Real Housewives of Atlanta may be living large now, but the situations of NeNe Leakes, Kim Zolciak and Lisa Wu Hartwell weren't always sweet. In fact, all three fled abusive home lives.
How did they find the strength to leave their violent, threatening men?
"I had a breaking point," NeNe tells me. "I think everybody does. There was just one day – and I don't know why it took me so long. I've always been a very strong person, and I've always had faith. All these years I kept saying 'this is so not me, and I have to get out of this relationship.' And then one day, I was at my lowest point … like 'oh my God, he's going to kill me one day, I love him, I would hate to be a single mom by myself, but I have to go.' And I just called up my girlfriends – which I should've done years ago – and I said 'you guys have to come and get me. I want to go.' They came and got me, and I just left just right then. Why I couldn't do it before, I don't know."
Article continues below advertisement
Kim tells me, "I thought it was the impossible. I split from my husband when I was pregnant – seven months – and it was devastating. It was the impossible to me, like 'how am I going to do this? Oh my God, I've got a four-year-old and a baby on the way.' It just seemed impossible to me. I had a brand-new house, two brand-new cars, it was the impossible, and you know what? It's all worked out the way it should. To me, it was impossible."
MORE ON:
Red Carpet Confidential
She adds, "I want people to understand that you don't have to put up with domestic violence, you don't have to put up with somebody who cheats on you. You can do it. Whatever you put your mind to, you can do."
Lisa found herself succumbing to violence because she was raised in a heated home.
She tells me, "My parents are still together, but they would argue a lot. I considered that normal – that's what I grew up with, and so when I got into a relationship that was very heated – I was being verbally, mentally, physically abused – I took it as 'it's OK, this is just what happens,' because my parents stayed married, so I'm thinking that my whole life. I do believe that you're a victim of your environment, and so you get away from that environment and you realize this is not normal – it's dysfunctional. I do think that it affects children – absolutely."