NEWS
Red Carpet Confidential: If Renée Zellweger was a Mom …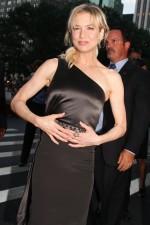 Renée Zellweger plays a mom inspired by actor George Hamilton's real-life parent in the comedy My One and Only, which is in theaters now.
The 40-year-old actress, who is romancing Bradley Cooper, gives insight into what she might be like if she were the caretaker of kids.
In fact, she has her required reading material ready to go.
"I loved the Blinking Bell – that was a treasure to me because my grandparents lived in Australia when I was very small," she explains happily. "When they would come, it would be wrapped in brown paper and would have the postmarks on it. It would take weeks for it to get there. I'd be anxiously anticipating the arrival of the gift, so it was magic to me. The Dr. Seuss books were also magic to me."
Article continues below advertisement
The Oscar winner could go the DIY route when it comes to Halloween costumes for any future little ones.
"I was a bee," she says. "My mother made the costume with pantyhose and black wings."
My One and Only is in theaters now. And, pick up the OK! on newsstands now for more scoop on Renée and Bradley. The cover line is Sherri Shepherd/"How I Lost 41 Lbs. Without Surgery."