NEWS
Red Carpet Confidential: Jessica Biel, Scarlett Johansson Glam Up 'Hitchcock' Premiere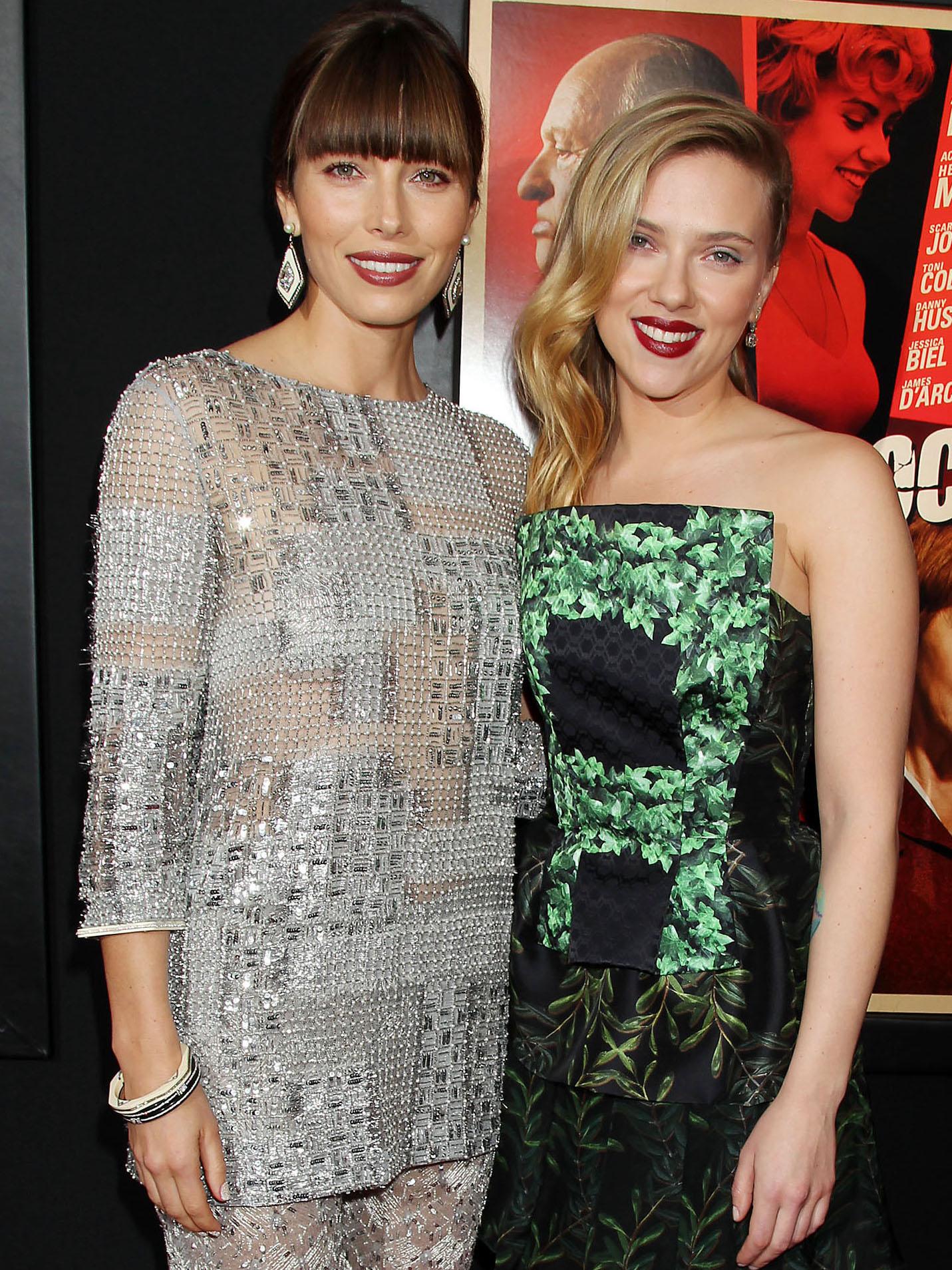 Jessica Biel and Scarlett Johansson are locked in gleeful conversation when they greet each other Sunday during the Hitchcock premiere held at NYC's Ziegfeld Theatre. There's no doubt they're tight — not only do they arrive five minutes apart, but they're also wearing the same shade of lipstick!
One style surprise is Jessica's choice of a sparkly, sheer Oscar De La Renta pantsuit.
Hm, is it heavy?
"It's not, actually," she says. "It's quite light."
Article continues below advertisement
For Jessica, the love story between the legendary filmmaker, Alfred Hitchcock, and his unsung partner wife Alma, gave her cause for pause.
"His wife Alma really was the woman behind the man," she says. "She accepted that role, and in that role, had her own identity, her own life, had her own achievements and things that she worked on. Still, they shared their success."
She adds, "Women are capable of doing everything. They can have their own career, stand behind a partner, support them both — I get so inspired by that."
Article continues below advertisement
Although she brushes off a question about spending her first Thanksgiving with her new husband, director Sacha Gervasi gives her high marks in friendliness and professionalism.
"She's extraordinary," he tells me. "She's light, she's fun, but serious. She's a serious, dedicated actress."
OK! GALLERY: JESSICA BIEL TAKES A STAR-STUDDED SHOPPING TRIP TO PARIS
Hm, did Justin visit the set?
"He did come down," Sacha says. "He was great. He's very supportive. He's also an artist, so he's super low-key, super cool. We hung out. He wasn't in the movie, so he respected his wife's space as she worked."
MORE ON:
Scarlett Johansson
Article continues below advertisement
According to director Sacha, she certainly studied up.
"She was Janet Leigh," he says. "She's so serious about it. When she took on the part, she called up Jamie Lee, Janet's daughter, and researched. She got books and photos from Jamie Lee. She read every book that Janet did, she read the book on Psycho. She said 'oh, she was smoking these kind of cigarettes on the set.' She owned it. "
He continues, "Don't be fooled by the glamour. Scarlett's been around. She brings weight in the sense of gravitas acting chops, and total dedication."
OK! GALLERY: SCARLETT JOHANSSON WOWS IN BLACK AT GOLDEN CAMERA AWARDS IN BERLIN
Scarlett's favorite Hitchcock flick?
"Strangers On A Train," she says. "I loved the suspense of it."
Meanwhile, Jessica names her favorites as Psycho and The Birds.
"What Psycho did to cinema in America at that time blew its brain," Jessica says. "At the time, everyone assumed this was going to be a massive disaster, and sort of a C-level movie. Now it's studied. To me, it's epic to be part of something like this."