NEWS
Red Carpet Confidential: Joan Rivers Laughs Through the Pain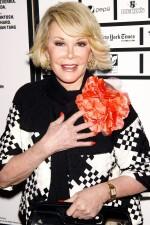 Joan Rivers invites me over to her home for a party to celebrate her reality show How'd You Get So Rich?, which airs tonight on TV Land. Gold plated décor and family photographs deck out her two-story residence, which is on the market for $25 million.
But one thing Joan tells me she can never get over is how her husband of 22 years, Edgar Rosenberg, took his own life in 1987, leaving her to raise daughter Melissa, then 19, alone.
Article continues below advertisement
Truly, there are demons that no amount of success, money or fame will settle, as anyone who has lost a loved one to their own hands will admit.
As friends including Katie Couric, Joy Behar, and Hoda Kotb mingle with show participants including a man who makes Billy-Bob teeth and a woman who creates makeup to make dead people look alive and the living look dead, Joan, 76, takes a seat to give her Last Word interview.
Last time you laughed?
Probably about two minutes ago, at something that Harry Smith just said to me. I don't even remember what, but yeah.
Oh, the last time I laughed was getting dressed for this party and seeing my thighs in the mirror.
Last time you cried?
When my dog broke its leg last week. It was sad. She's OK now, she's much better. She's downstairs.
Last time you felt angry?
Oh! Every minute of every day when I walk past my husband's picture, still. He committed suicide 21 years ago, and I'm still angry with him. It hurts all the time.
Article continues below advertisement
I'm also angry every time I watch that stupid Octomom, who needs her own life. Too late. You've had eight children. Shut up. Take care of your litter.
Last time you were inspired?
Probably this morning, to write a joke about how stupid Brooke Shields was at Michael Jackson's funeral, considering she hadn't seen him since 1993.
Last time you were starstruck?
When I bump into Meryl Streep on the street, I can't even talk.
Last advice you gave your daughter?
The last advice I gave my daughter was 'marry a rich old man with a bad cough' because you know he won't have long.
Last thing you bought?
The last thing I bought was for my grandson … I don't even know what it is. It's a thing you put in … it's a game … one of the Wii games. I don't even know what I'm talking about.
Last thing you ate?
I just had a great hors d'oeuvres.
Article continues below advertisement
Last meal you'd like to eat before you die?
Ohh! Oh. Wonderful – fried onion rings, fried shrimp, lasagna, fettucine, and 30-year kimchi … and I'll wait 'til it's ready.
Last time you felt jealous?
Probably … I'm not jealous. It sounds silly. I can't remember.
Last person you told 'I love you'?
Two weeks ago to somebody, and then I added "and goodbye." I don't think he remembers, either. laughs
Last time you were embarrassed?
When I had to go swimming with friends over the weekend, and you suddenly realize when someone says 'what's that funny slapping sound?' and you know it's your thighs.
Pick up the OK! on newsstands this week for more on Joan Rivers. She has a new love! "Angie Tells Brad: Sleep On The Couch!" is the cover line. And, catch Joan Rivers in How'd You Get So Rich?, which airs Wednesdays at 10 p.m./9c on TV Land.