NEWS
Red Carpet Confidential: Julianne Hough & Ryan Seacrest Rock Out To One Direction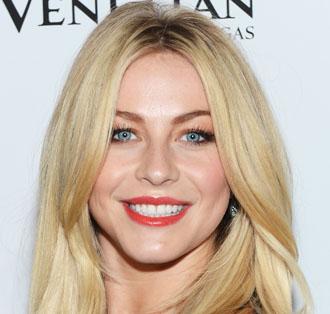 Starring in '80s movie musical Rock of Ages with Tom Cruise was a nail-biter for former Dancing With The Stars beauty Julianne Hough, who plays aspiring starlet Sherrie while he plays aging rocker Stacee Jaxx.
Who's more intimidating at first?
The choices are between her boyfriend of two years Ryan Seacrest, or co-star Tom. (She says, "I didn't kiss Tom, but he grabbed my boobs." All for show, of course.)
Article continues below advertisement
"Tom for sure," she tells me this week during the The Venetian Las Vegas-sponsored Rock of Ages special screening held at Sunshine Landmark Cinemas in NYC. "Ryan doesn't intimidate me at all. laughs"
She continues, "He's the biggest movie star in the world, really, but what's cool is now he's not intimidating. He's very cool — he remembers everything. He remembers the last thing we talked about, so it's always very comforting to know that somebody actually cares about you."
Article continues below advertisement
Turns out, they share they same toothpaste and they love to rock out to the sounds of One Direction's What Makes You Beautiful and Carly Rae Jepsen's catchy Call Me Maybe.
"We literally have the top down of my sister's Mini Cooper convertible with the hair blowing, in Nashville, blasting the One Direction song, in the back seat, just him and I, and my mom and my sister in the front seat. It's the funniest thing that you can imagine."
Since 2007, Julianne has made the jump from Dancing With The Stars to country music to starring in Burlesque with Christina Aguilera and Cher, and now starring in Rock of Ages with Tom.
Pretty impressive for a girl who moved to L.A. with little cash.
"I came to California with $2,000, but I told my dad I had $5,000 so he wouldn't worry," she says.
What's her secret to crossing over from reality star to real star?
Article continues below advertisement
"Well, I moved out to L.A. to sing and act, and dancing was just to get my foot in the door," she tells me. "But I think that's always what I wanted, so I continued on that path. Even when I was dancing, I had already been meeting with people, taking acting classes — I think the biggest thing is to work hard."
It's amazing to see Julianne doing so well! She is such a great girl — she gave me a hug to greet me. We go back a few years — so funny to be on the tour bus in Nashville with her and then-boyfriend Chuck Wicks, plus dog Lexi. She couldn't resist telling this joke: "How do you wake Lady Gaga up in the morning? You poke her face. Get it?" She has such a good spirit.
Catch Julianne in Rock of Ages, which hits theaters June 15. And catch the live version of the Tony award-winning Broadway musical Rock of Ages at the The Venetian Las Vegas this December.