NEWS
Red Carpet Confidential: Karina and Maksim's Wedding Goes to the Dogs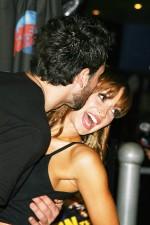 Dancing With The Stars couple Karina Smirnoff and Maksim Chmerkovskiy hope to make their pups Goga and Randy part of their summer 2010 wedding.
"Maybe they can hold the ring," Karina, 31, tells me as her huge mixed breed rescue Randy gets unruly and starts licking during an event to benefit the Humane Society of New York. (Both Karina and Randy are dressed in Natori – so cute!)
She laughs, "We're trying to have Goga and Randy become a couple because Goga's a girl boxer and Randy's a boy. They would work well together."
Article continues below advertisement
How do their dogs bring them closer?
"He listens to Maks more than he listens to me," the good-natured beauty tells me. "It's pretty funny. Maks comes in and he runs around like 'Where's Maks? Where's Maks? Where's Maks?' He listens to Maks. Maks can totally talk to him. He's less obedient with me than he is with Maks!"
Having dogs helps the Ukrainian couple get ready for the next step: kids.
"Having a dog is like having a baby that never grows up, so he constantly needs your attention, he always wants to have your love and if you don't give it to him – he voices his opinion, and he lets you know about it, so it definitely prepares you for motherhood," she says. "Besides anything else, it's nice to come home to a puppy that is always waiting for you and always excited."
MORE ON:
Red Carpet Confidential
Like life with a baby, life with dogs is not all fun and games. The couple is staying with her parents in New Jersey through the end of the month, and Karina's doting dad pitches in to help with the pups.
"Sometimes it's a little tiring, I'll be honest, especially at 6:00 in the morning when he wants to go to the bathroom, but that's my dad's job," she laughs. "That was the deal. We get the puppy, but I'm not waking up at 6. laughs Other than that, it's amazing."
Like Karina and Maksim, you, too, can make a BFF by adopting a cat or dog from your local shelter. That's where we got our girls, Mysty and Spense. They bring true happiness.
And pick up the OK! on newsstands now to find out Karina's take on why dancers make better lovers. The cover line is Sherri Shepherd/"How I Lost 41 Lbs. Without Surgery."