NEWS
Red Carpet Confidential: Katie Holmes Makes First Appearance Since Divorce From Tom Cruise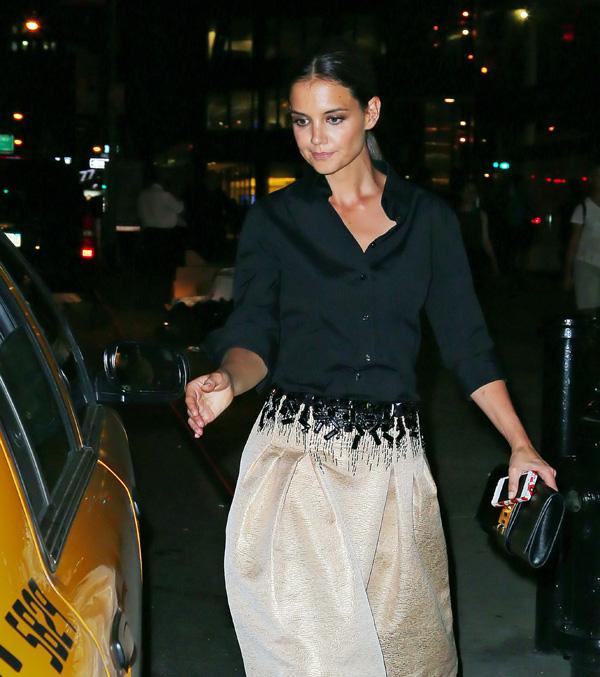 When Katie Holmes makes her first official appearance since her divorce from Tom Cruise was finalized in August, she does it with style.
The Holmes & Yang designer, 33, makes a beeline for designer Carolina Herrera around 8:30 p.m., just before the Style Awards, held Wednesday at The Stage at Lincoln Center in NYC, begin.
She greets the fashion icon with a kiss on the cheek and crinkle of the nose. A fitting start, considering she is scheduled to present the Designer of the Year award to the fashion icon.
Article continues below advertisement
"I think it's lovely," Carolina tells me of having Katie present her award. "I've known Katie for many years, and I think she's a lovely girl. I'm very happy to receive an award from her."
OK! GALLERY: KATIE HOLMES, SURI AND GRANDMA HOLMES TAKE A STROLL IN NYC
Katie then quietly tucks into a table with American Idol finalist turned Smash star Katharine McPhee. (They look like sisters!)
Wearing a casual ponytail and black blouse, the makeup on Suri's mom is minimal beside ultra glam Nicole Richie, who is seated at the table next to her.
OK! GALLERY: KATIE HOLMES AND SURI CRUISE WEAR PRINTED FROCKS, WALK DOG IN NYC
Friendly Katie is locked in a deep conversation with Breakthrough Designer of the Year winner Prabal Gurung, also seated at her table, before she is whisked away soon after the show begins. She emerges just before 9 p.m., looking as chic as ever. She must have enjoyed some freshening up from the glam squad!
"What an amazing night this has been," Katie tells the crowd of fashionistas. "I am in awe of the amount of talent, artistry and innovation that has graced this stage. There are only a few times of year that the groundbreakers, trendsetters and luminaries in the fashion industry assemble in one place, and thanks to the Style Awards, we all get to celebrate with them tonight. Personally, I am excited to be here to witness it all."
Article continues below advertisement
She continues, "And also, to present the award for Designer of the Year to a woman who I consider a true inspiration. For over 30 years, Carolina Hererra's name has been synonymous with elegance, and I'm not exaggerating when I say she makes the world a whole lot prettier. It is not just because of her unique ability to redesign tailored femininity, but also because of her drive, her spirit, her heart and that loving, loving face. From her bridal collection to her lifestyle collection and ten fragrances inbetween, Carolina is truly an empire, and her newly launched night collection finally answers the age-old question about what to wear to what party, when."
I bet Carolina will be thrilled to dress Katie for many upcoming date nights.
The Style Awards kick off Mercedes-Benz Fashion Week. Catch the excitement when the show airs on Style Network on Fri., Sept. 14, at 8 p.m. ET.