NEWS
Red Carpet Confidential: Kim Kardashian, Pals Predicted Split?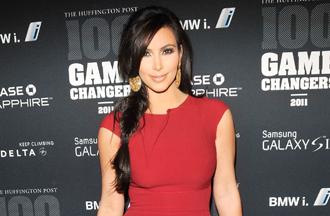 Hindsight is always 20/20, and that couldn't be more true than in interviews Kim Kardashian and her pals gave in the weeks leading up to today's divorce announcement.
"The best thing about married life is you just have a built-in best friend," she tells reporters Oct. 17 — exactly two weeks before she filed for divorce — during the Angel Ball to benefit Gabrielle's Angel Foundation For Cancer Research in NYC. "I can't explain it."
Article continues below advertisement
The worst thing?
"The messy piles of clothes everywhere, and I'm such a neat freak."
Still, she sees good qualities in hubby Kris Humphries.
"He is just so funny. He really makes me laugh all the time. He just has a really good sense of humor."
During that same event, her pal Lala Anthony chats about her enviable marriage.
"She's in such a happy place," Lala says. "As her friend, whenever you see your best friend that happy, it's an amazing thing. You want that for your friend. I'm happy to see her feeling that way."
But during the Angel Ball, pal Jonathan Cheban has harsher words when it comes to what Kim should do if her hubby doesn't get back to work soon after the NBA lockout.
"Oh man, find another husband, I guess," he says. "He'd better find a job."
Of their union, he tells me, "There's always bickering, but everybody bickers. It's fun. I think it's a normal thing of getting married, but they like to really escalate it."
Article continues below advertisement
They're not the only chatty friends.
During festivities for Mohegan Sun's 15th anniversary weekend Oct. 22 – eleven days before the split -- pal Maria Menounos opens up about the state of Kim's union.
"It's not like we've had these in-depth conversations about marriage," she tells me of how marriage has changed Kim. "It's more like 'oh my God, you're in Dubai?' and she's like 'it's amazing, you should come.' Fun stuff back and forth, nothing too deep. You can't have deep conversations over email, really."
MORE ON:
Red Carpet Confidential
She adds, "But I know she's happy. I saw her shortly after the wedding in NYC, and they seemed so lovey-dovey and happy. I love how all these magazines are like 'He's moving out!' I'm like 'yeah, they're moving back home.' It's over wherever they're at now. I don't know if I can tell where they are or where they're not."
Flash forward to Shape's 30th birthday bash held Oct. 26 – just five days before she filed for divorce — in NYC, and Jonathan admits that filming the show just after tying the knot has strained the couple.
Article continues below advertisement
"She moved back to L.A. now, so hopefully they can get some kind of married life going now," he tells me. "They were living in a hotel room since they got married, so it's weird. I'm sure now she'll have a little bit of time to adjust, to fix it."
He continues, "I don't think she's had much of a married life. We went right into all filming together for two months. It takes a lot of toll on you. You don't have any privacy, and no alone time. It's a lot of work to stay married. it's not a real marriage until they get to go home and live in their house — without 40 people — and go to dinner, and see how that goes. This is like a set. It's weird. There are 40 people in a hotel room with cameras all day, and Kourtney Kardashian and Scott Disick and Mason Disick and the babysitter. It's a weird situation."
Kim may not be too upset.
"She doesn't have meltdowns," Jonathan says. "Kim is like a machine. She's very busy. She's constantly moving, there's no time for meltdowns. She's just got to deal with all the craziness."