NEWS
Red Carpet Confidential: Lake Bell's Wedding Plans Go To The Dogs?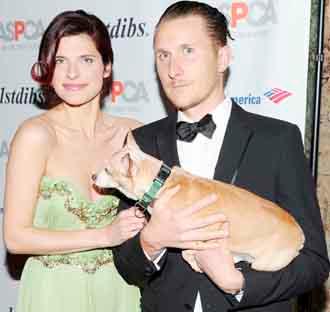 There's nearly a wardrobe malfunction on the red carpet during Thursday's ASPCA Bergh Ball when newly engaged Lake Bell and her fiancé Scott Campbell get their pose on with rescue dog Jeffrey, who is available for adoption. The playful pup nearly dives into the plunging cleavage of her Marchesa gown, which is so long and flowing guests trip on it.
But puppy hijinks are nothing new for the actress, 33, and her tattoo artist man, whose rescue dogs have learned to adapt now that they're making plans for the future.
Article continues below advertisement
"We both have dogs that get along very, very well," she tells me during the event held at NYC's Plaza Hotel. "But like any animals, like humans, there's always an adjustment period."
She cautions, "They're very different dogs."
OK! NEWS: ACTRESS LAKE BELL ENGAGED!
Her pitbull, Margaret, is ten, while his lab-pit mix is on the younger side.
"Her dog is much more dignified," dapper Scott tells me. "Mine's a little immature."
She says, "She's an older woman."
He says, "She's distinguished."
She laughs, "She's overweight — that's what he's trying to say."
He adds, "Mine's a rambunctious teenager."
Will they be in the wedding?
"You'll have to talk to them about that," she says, adding that they have not yet set a date after announcing their engagement last month.
Inside the event, rescue pups on orange leashes trot around with their handlers who hope to find them homes.
Want to take home a furry friend? Adopt a rescue pet and fight animal cruelty through the ASPCA.