NEWS
Red Carpet Confidential: Lee Ann Womack's Reality Rendezvous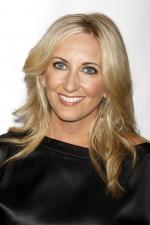 Lee Ann Womack hit Good Morning America yesterday to announce the CMA Award nominees, and the video cameras were rolling.
"I bring my Flip camera everywhere," the country singer, 43, tells me. "I have been playing around with some friends and their cameras. But I don't know, we'll see. Not a reality show, but maybe something fun."
If Lee Ann did turn to reality, we would see her in her downtime spending precious moments with her husband.
Article continues below advertisement
"We're both in the music business, and we both believe that people should just be who they are, and we're very supportive of each other," she says of hubby Frank Liddell. (They celebrate ten years in November!)
We'd also share in her daughters' lives. Aubrie, 18, and Annalise, 10, are just regular girls, and Lee Ann has typical parenting woes.
"In this day-and-age, I worry that this society has made celebrity so much more important than intelligence, so much more important than being charitable," she admits. "I worry about that with my girls. With all kids."
We would catch her on the road enjoying her favorite spots.
"Since I travel for a living I'm picky about everything from hotels to airports," she says. "My favorite thing over the last ten years has been our trips to Seaside, Florida. We get a condo on the beach and lie around and read. We cook our meals there so we don't have to make restaurant reservations or deal with waiting in lines. Of course, I realize cooking and lying around and not doing much of anything may not sound like most people's idea of a 'vacation' but for us it's actually different."
We might catch her eating her favorite things like natural peanut butter on whole-wheat toast.
"It's easy, quick to make and you can eat it on the go," she says.
She's also a fan of Quaker low-sugar oatmeal packs.
"I can heat water in a hotel room coffee maker or on the bus and always have a good breakfast."
Catch the CMA Awards airing November 11 on ABC.