NEWS
Red Carpet Confidential: Leighton Meester Locked in Love Triangle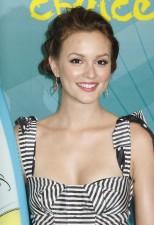 Three's a charm for Leighton Meester, who enjoys the company of both her boyfriend Sebastian Stan and onscreen love interest Ed Westwick while filming Gossip Girl.
Sebastian, 26, cherishes every moment he spends with the 23-year-old brunette beauty.
"She's probably the most interesting, sophisticated, talented and extremely funny person I know," he says. "I think she's really, really hilarious."
But watching Ed, 22, make out with his paramour can get a little crazy on the set of Gossip Girl.
Article continues below advertisement
"The funniest thing that's happened is probably the looks that get exchanged between me and Ed Westwick," Seb admits. "It's work. I think everyone shares the same mentality when it comes to that. It's pretty simple. The good part is that I get to go home with her afterwards."
Of course, Ed also enjoys vying for her affection. "Leighton and I have kissed, and I've banged into her teeth sometimes," he tells me. "I think that hurt her a little bit. I was a little bit clumsy."
The Brit bad boy takes a shine to her sense of humor.
"Leighton's quite fun," Ed says. "She's got a sense of humor where it's like you and her have a little gig going, and it's very personal. She's very wise for her age. People talk about wisdom being a thing that comes to a person when they're a lot older, but Leighton's wise for a young lady -- someone that you could talk to and ask for advice."
In real life, how does Leighton like her man to dress?
"In nothing, honey," she yuks.
She tells me she once pranked her mom by telling her she was married. "That was really, really mean," she admits.
Here's a photo of Leighton and I. She's so sweet! No wonder everyone adores her.
Catch Leighton, Ed and Sebastian on Gossip Girl, which returns to the CW on September 7.