NEWS
Red Carpet Confidential: Marissa Jaret Winokur Makes Mommy Time as She Loses Weight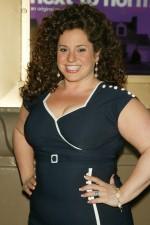 When Marissa Jaret Winokur isn't working on her weight loss goal of dropping 25 lbs. by the time the Dance Your Ass Off reunion airs tonight, she takes time to hang out with baby Zev.
"I love swimming with him," the host, 36, tells me. "I love going in the pool with him, where no one can call me. I can't answer the cellphone, and I can't get an e-mail. It's really, really good private time where nothing can get in my way of just being alone with him. There's nothing too important – because when you're in the pool, you have to give 100% attention."
Article continues below advertisement
How has Zev, 13 months, changed her life???"Oh, 100%," she admits. "I don't remember what I did after 6:00, ever. I'm like 'what did I do? What did I used to do?' because he goes to sleep, and I'm home with him asleep, and I'm like 'what did I used to do then?' I don't remember what it was like. It's so hard juggling a baby and work."
Losing weight was difficult for the Tony-winning performer who has been married to hubby Judah Miller since October 2006.
"I want to snack all the time," she tells me. "I like snacking. I like yummy food, and my husband eats whatever he wants, and he's skinny, tall and handsome. He can eat whatever he wants. It's hard because he'll eat cookies, and I'm like sarcastic 'great, let me enjoy this yummy salad.' It's no fun. It's totally no fun."
She continues, "He's really good because he could care less whether I gain weight or lose weight. He's been with me skinny, he's been with me fat, he's been with me forever. He'll pick better restaurants. Rather than going to a restaurant that has burgers and fries, he'll be like 'let's go get sushi.' But he'll also say 'I want you to do whatever you want to do. If you want a bite of my cookie, have a bite of my cookie.' He's not going to be the policeman, so he's good about keeping me healthy in my brain, He's my number-one supporter."
Here's a photo of Marissa and I. Did you know she's good friends with my childhood hero Deborah Gibson? "She loves hard, man," Marissa tells me. And, here's me with Deborah. See more photos of the stars in The Valerie Gallery.