NEWS
Red Carpet Confidential: Matt Damon Recalls His Salad Days With Ben Affleck & Gwyneth Paltrow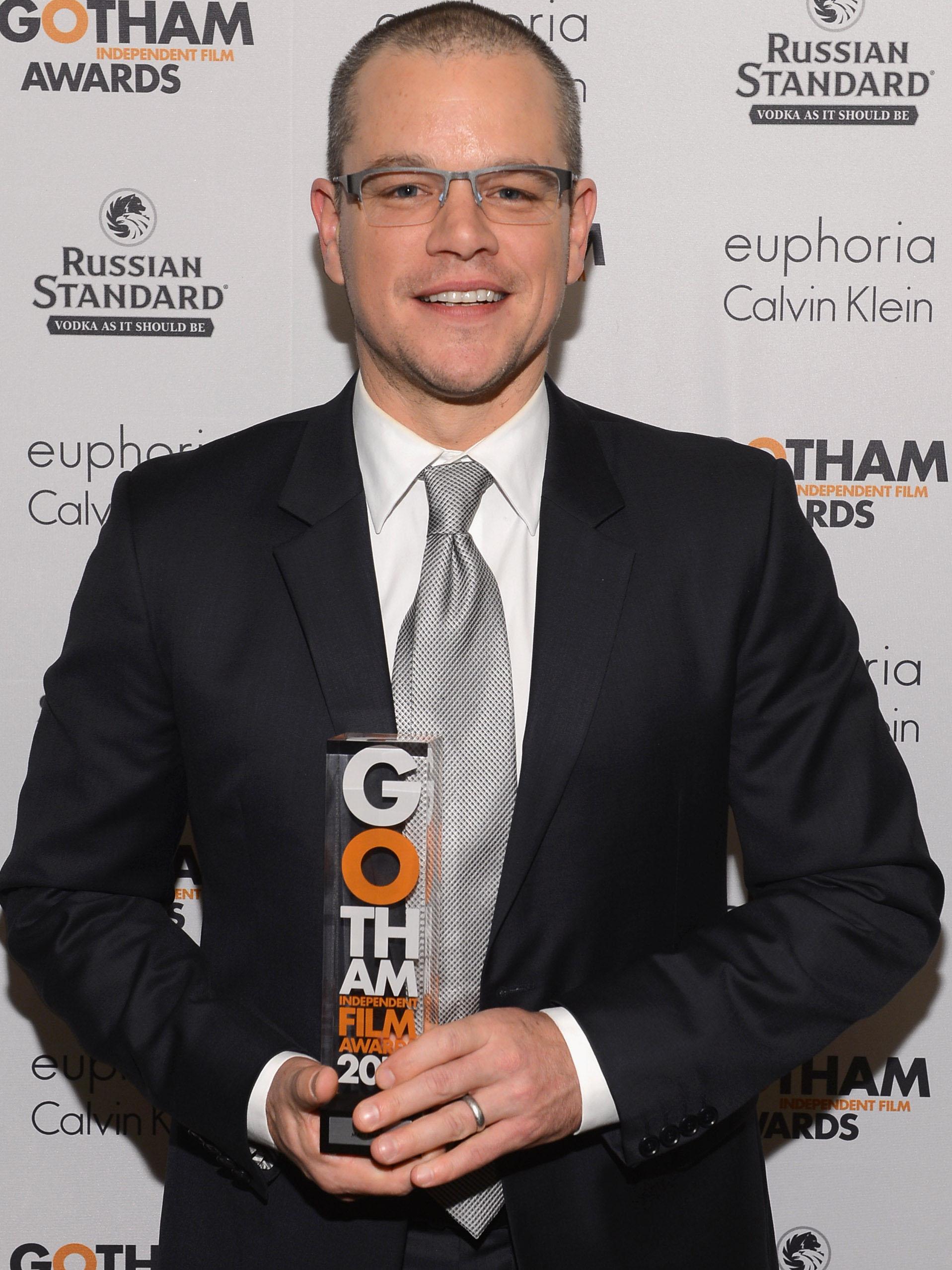 Matt Damon takes a trip back in time when he is honored Monday with a career tribute during the Independent Film Project's Gotham Independent Film Awards co-sponsored by FIJI Water at NYC's Cipriani Wall Street.
"I feel very honored," he says when he enters with wife Luciana by his side. "This is the first awards thing I ever came to years ago, so it's great to be back."
After his Promised Land co-star/co-writer John Krasinski jokes that BFF Ben Affleck should be here instead, and riffs on what fans say about his shaved head on IMDB.com, Matt takes the stage to collect his award.
Article continues below advertisement
OK! GALLERY: SCARLETT JOHANSSON & MATT DAMON ROCK THE RED CARPET AT THE WE BOUGHT A ZOO PREMIERE IN NYC
But first he must wade through the standing ovation given by stars including Jack Black, Amy Adams, Emily Blunt, Ethan Hawke, Billy Crudup and Marion Cotillard, who also receives a career tribute.
"I was getting dressed in Calvin Klein to come over here tonight," Matt says. "I realized that I was here 15 years ago at the Gotham Awards, and I remember that because it was the first time — it was right before Good Will Hunting came out, and it was the first moment in my life that was really surreal, because Calvin Klein gave me a suit for free, and that was the first time that ever happened."
He continues, "Ben and I came, and I think Gwyneth Paltrow was getting an award, or Harvey Weinstein was getting an award, and Gwyneth invited us — we were like, 'f*** yeah, we'd like to go.' And Calvin Klein gave me a suit. As I was putting it on that night 15 years ago, I realized — and this is not a joke — I realized that if I added up the amount of money that all my clothes I had ever owned in my life were worth, they wouldn't be worth as much as this suit that I was putting on. laughs"
Article continues below advertisement
For Matt, it was a pivotal time.
"That was the first moment that my life got surreal, and that was 15 years ago."
Still, he isn't all Hollywood glamour.
"The surreal part is just one little part of my life. The rest of it is that 15 years later, I'm married to this incredible person, and I've got these great kids. I make movies, and that's what I do."
He continues, "I feel very privileged to do what I do. I've never taken it for granted, and I never will."
Matt heads back to the press room with wife Luciana in tow.
Hm, what keeps him grounded?
"I have a team of people who do that for me," the father of four daughters admits. "I count on them!"
One way they keep him steeped in reality is by reminding good-natured Matt that he is the same person despite his fame and fortune.
"My wife would probably tell you that I haven't transformed at all, fashion-wise," he says. "There were these things where they give you a suit, so it looks like you know what the hell you're doing, but there are plenty of paparazzi shots of me walking around in my own clothes that prove that I have absolutely no fashion sense."
MORE ON:
Red Carpet Confidential
Article continues below advertisement
OK! GALLERY: MATT DAMON AND MARION COTILLARD ARE CHARMING AT CONTAGION PREMIERE
Still, the concept of receiving a lifelong career tribute at age 42 is not lost on him.
"Well, I hope this is like a buoy-marker — a half-time thing," he says. "If I could do this for another 15 years, then that would be cool. I hope it's not full circle. I hope it's just a little way into the circle."
For Matt, the secret behind his success that started with his and pal Ben's Oscar-winning flick Good Will Hunting lies in never settling.
"It was something that we wrote, and we never compromised on it. We wanted to make it good by our standards. We did the same thing with Promised Land, and Ben did the same with Argo. It's revising and working on it until you get the thing that you want."
But Matt doesn't let perfectionism stand in his way of getting acting work.
"I'm always looking for the next good thing," he says. "Each movie's a story — it's storytelling. You try to align yourself with good people, and find something that speaks to you in some way. I never wanted to not do a bunch of good movies because I was waiting to make a great one."
Article continues below advertisement
Of course, working with friends is a driving force.
"That's kind of the goal, actually. Or it's the other way around. I end up working with people like Fran McDormand and Gus Van Sant and John Krasinski. They're my friends, but I'm a fan of them. I don't know which one comes first."
Ben must be so proud of his pal.
RELATED NEWS:
TOM CRUISE GETS SPANKED BY A DRAG QUEEN AT MATT DAMON'S BIRTHDAY PARTY IN LONDON