NEWS
Red Carpet Confidential: Pregnant Melissa Joan Hart's Hubby Does Pancakes — And Diapers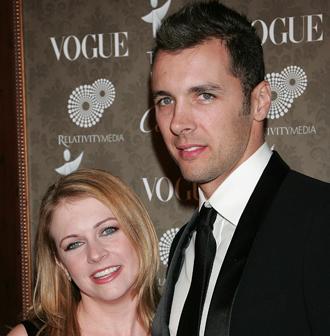 Congratulations to Melissa Joan Hart, who is expecting her third child!
Make no mistake: This baby was planned.
In 2010, the actress, who turns 36 today, told me she wanted "Irish twins in a year or two" and hoped to have a girl one day in addition to her two sons, Mason, 6, and Brady, 4, with hubby Mark Wilkerson. Right on schedule!
These days, Melissa can be proud that she chose her husband well.
"Oh, he's an amazing dad," she gushes to me. "He's a better dad than I am a mom, I hate to say. I'm the oldest of eight kids, I always thought it was ingrained in me to be a good mom, but my husband is unbelievable."
Article continues below advertisement
She continues, "He wakes up every morning with them, makes pancakes, makes us all breakfast, leaves me some on the counter even though I won't eat it — just in case I ever do eat it — he makes me a pancake every morning. He makes all the meals."
And unlike Ivanka Trump's husband Jared Kushner, he isn't above the dirty work.
"He did all the diapers for the first three weeks of Mason's life because I was just hurting too much to get out of bed," she says. "I didn't know a man could be that natural at being a father, but he's amazing. He's truly amazing. I'm so lucky."
OK! BLOGS: RED CARPET CONFIDENTIAL: IVANKA TRUMP'S HUSBAND NEVER CHANGES DIAPERS?
For Melissa, motherhood has changed everything.
"You just take on a different life," she tells me. "My life before doesn't even exist anymore. It's all about them. It becomes all about what you can do for your child — for their safety, for their happiness — everything. You change your house. You put locks on every door and make sure everything's baby proofed, soft and plush and friendly, happy and colorful. You do what you can to make their lives as good as you can make them. That means a lot of sacrifices on your part, but it's all worth it in the end because that's the only thing that matters."
Article continues below advertisement
OK! BLOGS: RED CARPET CONFIDENTIAL: PREGNANT KOURTNEY KARDASHIAN REVEALS WHY SON MASON WORE PINK FOR EASTER
Would she let her kids go into showbiz?
"I wouldn't stop them, but I'm not going to encourage it," she says. "I want them to go to school and study hard to do something that's a little bit more traditional with the 'when you do better, you get paid more' kind of thing. laughs You move up, you climb the ladder, and you get the corner office and you get the promotion kind of thing. Because I think that in all the entertainment arts, it takes a strong personality. I think there's a lot of rejection, and that's hard. I don't want to see my kids go through that, you know?"
Catch Melissa on Melissa and Joey, which returns to ABC Family next month.