NEWS
Red Carpet Confidential: Pregnant Snooki's Night Out!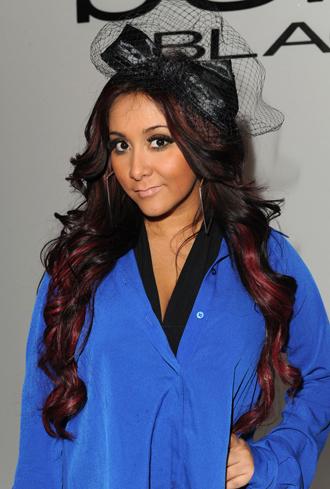 Now that Nicole "Snooki" Polizzi has confirmed that she's 15 weeks pregnant — and engaged to Jionni LaValle! — it's time to rewind to Jan. 28, the evening the Jersey Shore darling hosted her first Team Snooki Boxing Match at Resorts Hotel Casino in Atlantic City.
The gorgeous guidette, 24, showed signs of a small yet defined, growing bump as her breasts poured out of her dress. Before the match began — and when it ended — a gaggle of people were strategically placed in the boxing ring so that no one could get a good look at her body.
Article continues below advertisement
"Hi, everybody," she told the crowd. "Thank you for coming. I just fell. Me and my dad are very excited about this event, and this is only the beginning."
Meanwhile, her dad, Andy, and now-fiancé, Jionni, were delicate with her all night, blocking her and helping her get through tricky situations with boxing-ring ropes.
Snooki and Jionni, also 24, locked eyes as he helped her get down from the boxing ring, and she looked at him as if he was her everything. They were careful with her everywhere she went. She was glowing, happy, content and beautiful. She had a certain knowing sparkle in her eyes and laughed easily.
For food, she picked at a plate of healthy vegetables. She was still Snooki, though. She bumped fists with boxer Paul Hyland when he won a match, and she danced in her seat to songs like Kevin Rudolf's "I Made It."
OK! NEWS: SNOOKI ATTENDS A PRESS CONFERENCE TO ANNOUNCE TEAM SNOOKI BOXING
Indeed, she and Jionni seemed so in love. He had his arm around her all night. She accepted congratulations from friends, and she mouthed "thanks" with a smile.
Article continues below advertisement
Even though she was with child, that didn't stop her from attending the afterparty held down the hallway at Night Fever, following the match.
All in all, she seemed to have developed a new elegance and seemed calmer. She was sedate in the VIP section, even boring, chatting with friends on the sofa and posing for photos. At the time, she was not wearing an engagement ring.
According to Irish boxer Patrick Hyland, who celebrated his birthday in Las Vegas with the couple and shares meals with her family, Snooki and Jionni are a perfect match.
"The two of them together are like jam and bread," he tells me. "Nicole has a small world, and Jionni's a nice, soft lad. He's polite, and I like him as a person. She's down-to-earth, a good businesswoman, very polite and mannerly."
OK! RED CARPET CONFIDENTIAL: SNOOKI PONDERS LIFE AFTER JERSEY SHORE
On Jan. 2, Snooki told me she recently gained four pounds, going from 98 to 102 pounds, when she promoted her Snookify Me! app and the Supre Tan's Tanuary contest. At that point, she said, "I'm not drinking a lot anymore."
Article continues below advertisement
Alas, long gone are the days like Sept. 24, when she hosted an event at The Pool After Dark at Harrah's Resort Atlantic City, and gleefully flashed her goods to the crowd with Papa Snooki (wearing the identifying T-shirt!) standing by as she showed off her equally gleeful dance moves to tunes like Pitbull's "Give Me Everything." She radiated pure happiness everywhere she went.
Even if her days are numbered on Jersey Shore, she's fine.
"I don't question my status at all," she told me at that event. "If you don't want me, you don't want me. I had my run, and that's it. If you want me or you don't want me, that's your problem."
How does she envision life after the show?
"I want to have my family," she said. "I want to get married, I want to have good kids, I want to have a good family, and that's it."
After all, that was always the plan. In 2010, she told me she wanted to be a young mom and thought 27 sounded like the ideal age.
"I want to be a MILF when my kid's, like, 18. I don't want to be like gross and saggy."
Looks like she's got her dream! Congratulations and best wishes, Snooki! If your baby-to-be is half as entertaining as you are, the world is in for a treat.