NEWS
Red Carpet Confidential: Queen Latifah Afraid to Show Off on 'DWTS'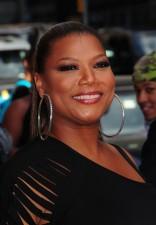 Queen Latifah can sing and act as her Grammy win and Oscar nomination prove, but she's not so sure about showing off her footwork on Dancing With The Stars.
"I don't know," the genuine Jersey girl, 39, tells me as her glam squad tends to her eyes and hair during the Ford Mustang-sponsored video shoot for her new single Fast Cars held at Wall Township Speedway in Belmar, N.J. "I like it. I like the show, but I don't know that I would do it."
Article continues below advertisement
Why not?
She laughs, "Because I'd dance them under the table!"
When a fierce rainstorm dampens the shoot, the slimmer singer decked out in tight leather pants pumps up the volume under the production tent, playing a tune from her new album, Persona, called Cue The Rain. Singing along, she bounces to lyrics including "Cue the rain/Why you driving me so insane?/Cue the rain/Didn't know you'd be so greedy/Baby, you got my heart in chains." She laughs at the staffer pinging water from the top of the tent in order to keep it from dripping inside. Her personal umbrella holder shields her from drops from blowing in through the sides.
When the downpour stops, we head up to the garage where scads of models and executive-playing actors wait for their turn. Lunch is served: salad, chicken, beef, pasta. Deviled eggs sans mayonnaise sail around between takes. Out jumps Missy Elliott from a waiting car. Robin Thicke and wife Paula Patton also put in appearances racing 2010 Mustangs.
Queen's sass and style is admired.
Alicia Keys tells me, "I think that her beauty is not only physical, but it radiates from inside of her. It's the way that she makes the room laugh. It's the way that she's witty and fantastic, it's the way she owns herself and her individuality. It's the way that she has grown in an amazing way. I'm a huge fan of her music and to see her grow as an actor and a presence and a being, I have to stay her style is very individual and impeccable. She owns her whole situation."
Here's a photo from the shoot:
Queen Latifah's new album, Persona, is in stores now. And, check out www.the2010mustang.com to watch NASCAR phenom Colin Braun hone Queen's driving skills at the New Jersey Motorsports Park. Queen's Mustang experience is the fourth of ten dream Mustang experiences Ford is bringing to life with "The '10 Unleashed." Submit your own Mustang dream experience in less than 250 words on Ford's 2010 site.