NEWS
Red Carpet Confidential: 'RHONJ' Star Teresa Giudice Gets Ready For Baby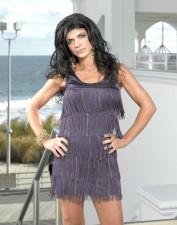 Feisty Real Housewives of New Jersey star Teresa Giudice misses her favorite sweet drinks including cosmopolitans, frozen margaritas, strawberry margaritas and Malibu Bay Breeze because she's been abstaining from alcohol while pregnant with baby #4.
The wait will be well worth it when the little one arrives in September. While she can't imbibe, she's making up for saying "no" to alcohol by chowing down on decadent dishes.
Article continues below advertisement
"I eat everything," she tells me with young daughter Gia at her side. "I don't watch what I eat – I'm not one of those 'oh I have to watch my figure.' I just make the baby happy. Whatever the baby wants, I eat it. No cravings."
Teresa has no interest in finding out whether the new baby is a boy or girl. "Whatever God wants – as long as it's a healthy baby." Gia adds, "It's the fourth child and you want it to be a surprise – you should let it be a surprise."
Ready-to-be-big-sisters Gia, Gabriella and Milania can't wait. "They're so excited. They always rub the belly, speak to the belly, kiss the belly."
Hubby Joe, whom she wed in 2001, cherishes fatherhood. "He's a great dad," she tells me. "He's so loving with his daughters. He spends time with them and plays with them."
Spending quality time together is a precious experience.
"We have a beach house on the Shore, and we have a boat. We like to spend time on the boat, we go to the beach, barbecue. That's family time."
What lessons does she hope to pass along to her kids?
"Family values and to be true to yourself and just be well-rounded and a good person – like you have to look at yourself in the mirror every day," she says.
Pick up the OK! on newsstands now for Teresa's Culture Vulture – her pop culture musts. Michael Jackson and Debbie Rowe/$100 Million or the Kids is the cover line.