NEWS
Red Carpet Confidential: Rumer Willis Talks Fashion, Beauty, Scary Movies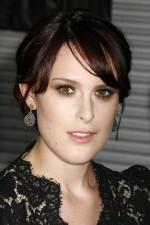 Rumer Willis plays a sorority girl in the horror flick Sorority Row. Like any upscale college cutie, clothing plays a big part of her life.
"My friends call me the bag lady because in my car, I always have at least one change of clothes and all these different things," Demi's daughter, 21, tells me. "I think if you have a swimsuit with you at all times, if you have a dress you can throw on, you have whatever you need and you can go anywhere."
MORE ON:
Red Carpet Confidential
Article continues below advertisement
With fall coming up, what does Rumer look for in a leather jacket?
"I like it to be warm," she says. "I think things with character are much more interesting than something that's entirely perfect."
What's her red carpet beauty secret?
"Don't put too much black eyeliner on top because it'll close your eyes, and when you have flashbulbs in your eyes blinding you, your eyes will get really small and you'll look like you have no eyes a little bit."
Rumer credits this role for helping her grow.
"I look for characters that will either push me outside of my comfort zone and challenge me or do things that I want to explore," she says.
What movies scared her when she was growing up?
"I watched The Mask when I was younger, and the scene where Jim Carrey's thing went over his face, scared the crap out of me. Luckily I've gotten over that."
Sorority Row is in theaters now.