NEWS
Red Carpet Confidential: Secrets of The Party Reunion!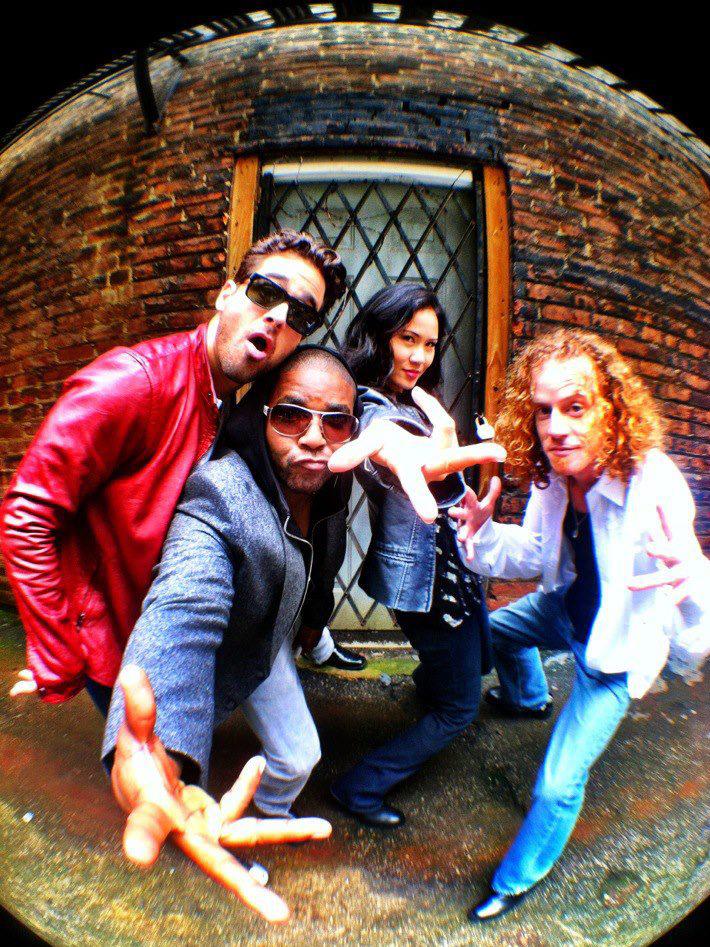 When The Party reunites on StageIt tonight at 8 p.m. ET, one member will be missing, but not forgotten, from the group that got their start on the Mickey Mouse Club and toured with Vanilla Ice, Color Me Badd and Taylor Dayne performing hits like Summer Vacation, In My Dreams and Free.
After twenty years apart, four members of the group—Albert Fields, Chasen Hampton, DeeDee Magno and Damon Pampolina—are recording new music and planning a tour.
Article continues below advertisement
Big news, considering The Party inspired Mouseketeers Britney Spears, Christina Aguilera, Justin Timberlake and JC Chasez when they were young and impressionable. Plus, they're my favorite group of all time!
OK! GALLERY: SEE THE PARTY, BRITNEY SPEARS, *NSYNC, VANILLA ICE AND MORE IN THE VALERIE GALLERY
"We all have a passion and a love for music," DeeDee, 37, tells me this week while celebrating my birthday at Luxe Kitchen and Lounge in Cleveland. "We all missed being together and making that happen together."
Still, the Internet has been rife with speculation about the group's beloved Tiffini Hale, who returned to the Mickey Mouse Club to co-host with Chasen after The Party wrapped in 1993.
"The truth is, she's not a part of this," Albert, 38, tells me. "We have to respect her, her feelings and her family's feelings. That's what it is. Period. And hopefully people can understand that and accept it, because they have no choice but to. That's what it is."
Article continues below advertisement
Damon says, "We love her."
Albert says, "And we wish her well. I'm sure she wishes us well, and that's what it is. Bottom line, she's not a part of this, and that's what it is."
DeeDee adds, "We would love her to be. She will be, in spirit."
OK! GALLERY: BRITNEY SPEARS LOOKS STRESSED
That spirit is alive in their new music.
"It's very grown-up," Damon, 37, tells me of the new tunes. "We want to stay true to what the group is, and stay true to where we are now. We're all mature adults, and we want to keep it real."
Article continues below advertisement
He continues, "We were young teens, so it's got a lot of maturity now. I also think that you've got to stay on the even playing field with contemporary music, but we're also trying to stay true to ourselves and where we are as artists, but also still be heard."
Plus, their themes have changed.
"We all have babies—I have babies, she has babies, Damon has a baby—but we still get in there and do what we need to do," Albert says.
OK! GALLERY: CHRISTINA AGUILERA AND BOYFRIEND MATTHEW RUTLER HAVE DINNER IN BEVERLY HILLS
Hm, why get the band back together now?
"I think it just makes sense," Albert says. "Not to say that people aren't happy with their lives or situations, but there was a time when we came together, I hadn't seen DeeDee in 15 years, maybe. I've seen Damon—I love him to death—and coincidentally, I saw Chase in Florida for a short period of time. He met me in a parking lot, and I was around the way. It was perfect because he was flying out. I was like 'well, meet me now.' We met up. I hadn't seen him in ten years prior to that."
Article continues below advertisement
He continues, "The stars aligned. We talked about doing it before, but it wasn't the right time, and I think that now is."
DeeDee adds, "We see everybody else getting back together and we're like, 'we could do that, guys, it would be fun.'"
Nothing compares to celebrating a birthday with your favorite teen idols, although Chasen couldn't be there until the following day. Not only did they sing Happy Birthday, but we also shared a decadent brownie-and-ice cream treat topped with a single candle. Woo-hoo! Plus, Damon, my #1 and only celebrity crush, walked me to the car. Swoon!