NEWS
Red Carpet Confidential: Super Bowl Champ Drew Brees Proud To Be A Diaper-Changing Dad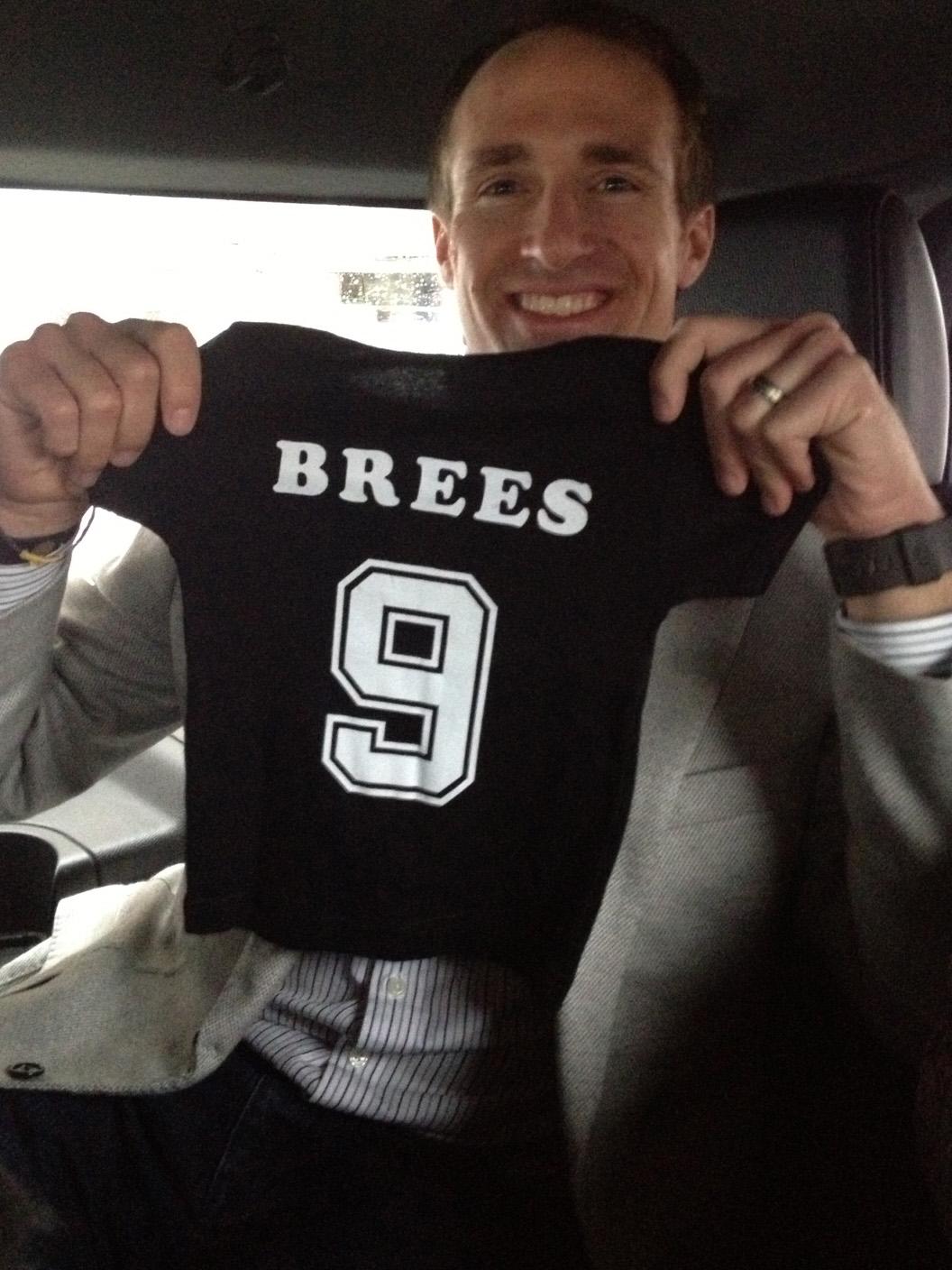 Winning Super Bowl XLIV was certainly a highlight for New Orleans Saints quarterback Drew Brees.
The married father of three, who wed wife Brittany in 2003, is proud to put his 2010 trophy on display.
"I keep it in my office," the MVP, 34, tells me this week while cruising through the streets of New Orleans promoting Tide's Super Bowl campaign. "It brings back a lot of memories every time I look at it. It's surrounded by a lot of pictures and that kind of stuff, like a picture of my wife and me and my oldest son, Baylen, who was with us on the podium after we won Super Bowl XLIV. He had just turned 1, so we have that picture framed right behind the trophy."
Article continues below advertisement
He adds, "That one makes my eyes well up every time I look at it just because it was such a special moment. It was one of those special moments that you always hope and pray for, and that's the ultimate accomplishment in our profession, is to win a Super Bowl, but then to be able to share it with your family like that was a dream come true."
OK! GALLERY: COUNTDOWN TO SUPER BOWL: FOOTBALL PLAYERS WITH THEIR CELEB LADIES
Sharing Super Bowl Sunday with sons Baylen, 4, Bowen, 2, and Callen, five months, is a tradition that will grow more special as the years progress.
"They're still so young. My oldest definitely gets the football thing. He gets that daddy goes to work and daddy plays football and daddy's got a big game today. That kind of thing, so he's got little things, like when I walk out of the house, I'll say 'I love you, buddy, I'm going to play a big game.' He'll be like 'good luck, daddy. Go get 'em, daddy.' It's awesome."
Article continues below advertisement
For Drew, being a hands-on dad is a joy.
"Having three little boys is the greatest thing in the world," he says. "It makes for a crazy house. The five-month-old is not mobile yet, but it's nearly impossible to watch the older two at the same time because they're going in opposite directions. There's never a dull moment, but it's so much fun to watch their personalities come out. They're alike in some ways, but very different in other ways."
He even prides himself in changing diapers.
"That's one thing, that for whatever reason, I have no problem doing. Anytime, anywhere, without a doubt, I set 'em down and I can do it in less than 30 seconds. I've got a pretty good system down."
OK! GALLERY: THE BEST-DRESSED STARS THIS WEEK: 2/1/13
One way Drew bonds with his three sons is through "wrestle time."
"Both of them will come up to me and go 'hey dada – wrestle time. Wrestle time,'" he explains. "We've got this big stuffed animal bear, so it will be wrestle time there. All three of us will go over and wrestle on this big stuffed animal bear. Body slam on the bear, back and forth, and we're all over each other. It's so much fun – it's the greatest thing ever when they come up to me and say 'wrestle time.' That's how I know we're in for five minutes of mayhem."
Article continues below advertisement
Breaking up fights is par for the course.
"Boys will be boys, right, so you know they're going to do crazy stuff," he says. "They're going to want to beat at you and be rough and tough and throw punches. What you teach them is there's a time and a place, like right now, it's wrestle time, so we can go at it. We can do whatever. We can push each other around, we can tackle each other and we can hit each other."
He continues, "But then all of a sudden we stop, and it's onto dinner time — now it's time to sit and eat, and no more wrestling. You teach them that there's a time and a place where certain things are appropriate, and other times where it's not."
Drew hopes his sons grow up to be athletes.
"I think you gain so many things from athletics," he says. "Especially team sports. It teaches you teamwork, how to work with others, it teaches you leadership, it teaches you how to sacrifice, it teaches you how to fight through adversity. It teaches you a mental toughness — things aren't always going to go your way, how are you going to respond when something bad happens, or something negative happens?"
Article continues below advertisement
He adds, "You learn so much. You learn how to respect authority, with coaches. You learn how to balance the teamwork aspect and work together. I think it can help kids gain confidence and self-esteem. When you work hard and accomplish something, it gives you a great feeling. It's hard to find anything else for a kid that will help teach you those things. That's why I'm such a fan of sports — all sports, but especially team sports."
OK! GALLERY: PREGNANT GISELE BUNDCHEN AND TOM BRADY PLAY WITH SONS BENJAMIN AND JACK AT GILLETTE STADIUM
Hm, how does he feel about having more kids?
"My wife and I have talked about having one more. We have three now. But honestly, the more kids we have — at least, I feel this way — makes me want to have even more. We said two starting out, and then we moved to four. Right now I'm thinking to myself that I could go five or six. As crazy as our house is right now, I could do five or six, but maybe I'm getting ahead of myself. I'll just take it one at a time, and we'll focus on fourth if that's God's plan, but we'll see. We'll see how it plays it out. "
Article continues below advertisement
Either way, Drew and his family will use Tide products.
"Both professionally and personally, I've always used Tide," he says. "We're a Tide family through and through, whether it's trusting Tide with our sweaty workout clothes, getting the grass and mud stains off our jerseys or the kids' fingerpaint or juice stains off their clothes. laughs Tide is a great family brand that we've always trusted, and professionally, the Saints just switched over to Tide. It's strong enough for families and professional Super Bowl teams."
Article continues below advertisement
Of course, Super Bowl heroes get nostalgic.
"I've got a few things with me, including the Pro Bowl costume from a couple days ago, that I have not washed yet. I've got a little jersey – my son's jersey from a Pampers commercial that he did right before he turned one, where he was rolling around in the Superdome turf, which is right before we made our playoff run and went to the Super Bowl. That's got some sentimental value, and the jersey has his smell. My wife and I can't bring ourselves to wash it. We're not going to. We're saving it."