NEWS
Red Carpet Confidential: The Surprising Reason Why Abigail Breslin Is Excited To Turn 18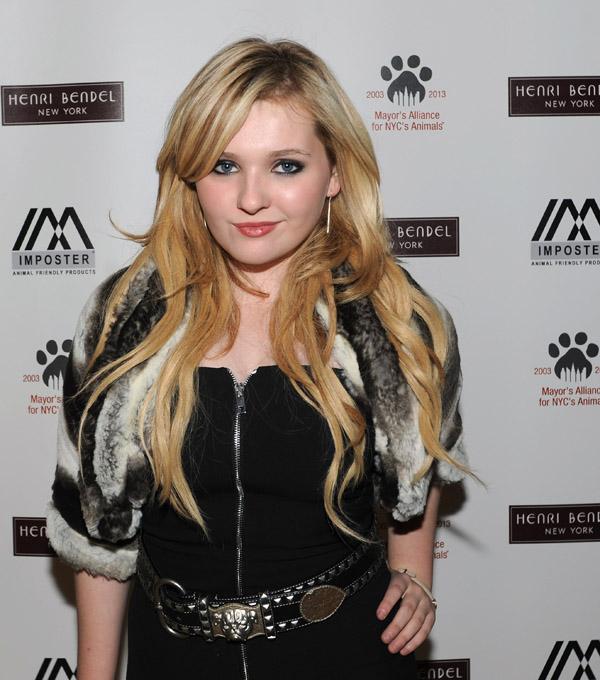 Despite her racy photo shoot and body-hugging attire, August: Osage County star Abigail Breslin hasn't strayed too far from the precocious child who became a household name at age 10 thanks to her role in the Oscar-winning comedic drama Little Miss Sunshine.
Photos: 10 Young Stars Who Posed for Risque Photo Shoots
Of course, she can't wait to turn 18 this April, but not for the reasons one might expect.
Article continues below advertisement
"I'm excited to turn 18," the star, who is working on an album, tells me during the Imposter Faux Fur event NYC Loves Animals at Henri Bendel.
"Then, I can be like 'I'm 18.' I feel like it's exciting because whenever I see those infomercials and it says 'must be 18 or older to call,' then I want to call every single infomercial I see and be like 'yes, I'm 18.'
What's the most rebellious thing about her?
"I don't do anything rebellious," says Abigail, whose mom is across the crowded room. "Sometimes I get a grande hot chocolate at Starbucks instead of a tall. That's when I'm in the mood to be crazy! I have a lot of ear piercings. Maybe that's really rebellious?"
Photos: The Cutest Kids in Movies
Though she won't discuss her dating escapades, she reveals her celebrity crush is unchanged after all these years.
MORE ON:
Red Carpet Confidential
"It's been Zac Efron since I was, like, 14," she says. "Actually, maybe 10. I cried when I met him. It was super embarrassing, but he was super nice."
Here's my pic with Abigail at the event: