NEWS
Red Carpet Confidential: Tia Mowry-Hardrict Helps Twin Tamera Shrink Belly After Baby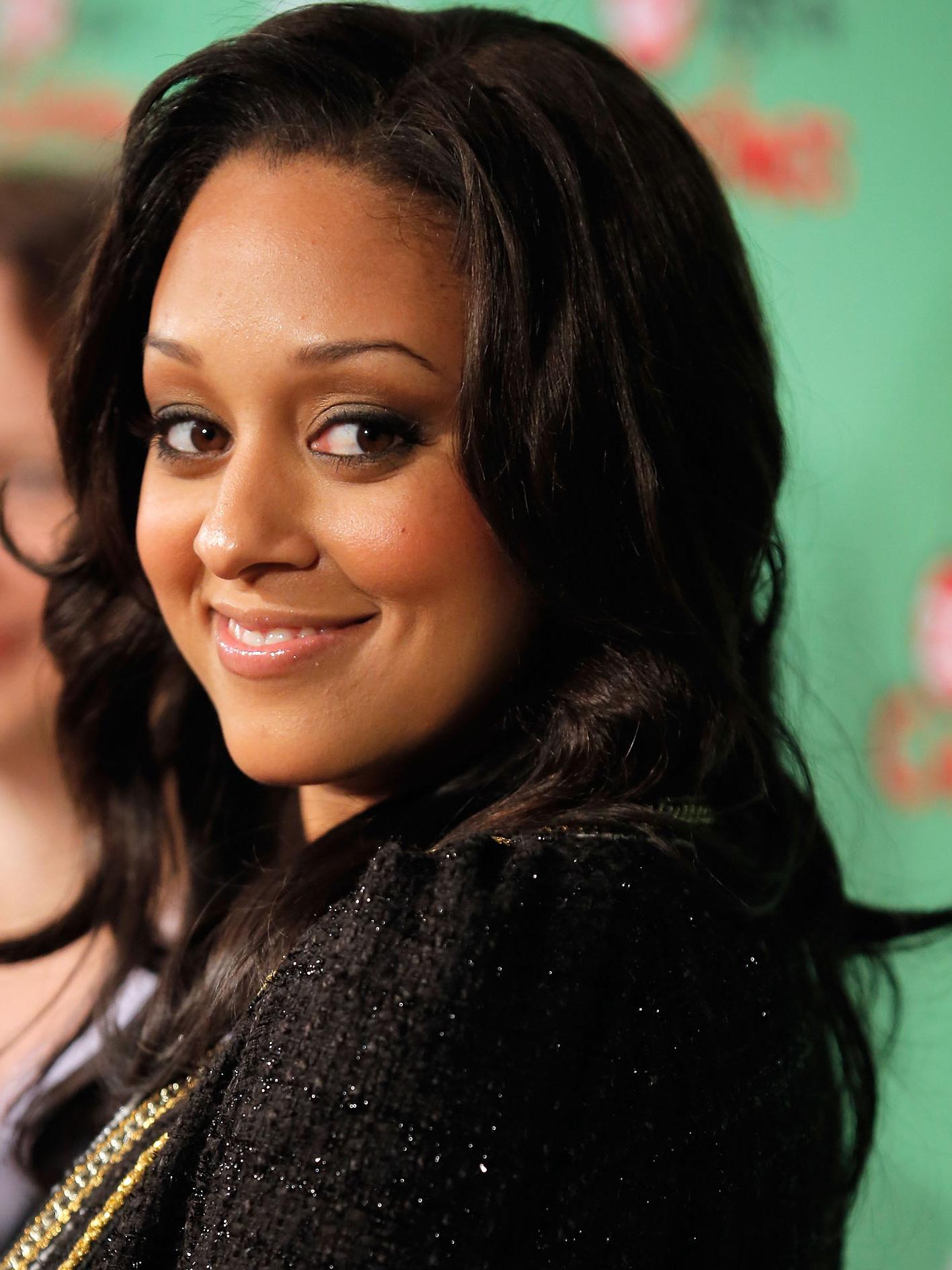 Sister, Sister to the rescue!
Not only has Tia Mowry-Hardrict guided twin Tamera Mowry-Housley through the rigors of breastfeeding, but she is also lending her expertise when it comes to getting her post-baby body back.
Tia, who wed husband Cory in 2008, is mom to son Cree, 18 months old. Tamera, who tied the knot with hubby Adam in 2011, is mom to son, Aden, who is two months old.
"She said 'gasps oh my God, Tia, when is this belly gonna go down?'" Tia, 34, tells me while promoting her yoga DVD, Tia Mowry's Calm Yoga with Tara Stiles. "That was a misconception that I had as well, because a lot of celebrities are glorified in this business. We need to see that they're back to their bodies two months after having a baby, in a bikini on a beach. It makes you think something's wrong with you if you're not that way. "
Article continues below advertisement
She continues, "I felt that way the same as my sister did, and I said 'you know what Tamera? It's gonna take time.' I try to hit her with realistic goals, and I think if we're promised things that are not realistic, we quickly give up, but if we set realistic goals, you stick with them. I told her 'you know what Tamera? It takes awhile. Everybody's different — it could take up to four months, six months or a year. But be consistent. Slow and steady wins the race.' And that's exactly how I lost my weight — slow and steady."
OK! GALLERY: THE DIFFERENCE A YEAR MAKES: SNOOKI'S LIFE-CHANGING 2012
For Tia, losing the baby weight was more difficult than expected.
"It took a lot of discipline," she says. "People are always trying to look for the quick fix, including myself. In my mind, I was like 'OK, there's going to be some quick fix.' But there isn't. If you want to have your weight stay off and you want to do it the right way, which is the healthy way, it's going to take some time, of course."
Article continues below advertisement
She adds, "My goal was to lose five pounds a month for a year, and that's basically what I ended up doing. First step was my diet — especially if you're a busy, working mom, or if you're just a busy person in general, you may not get to the gym every single day, so what you can do is focus on your diet."
The reality star avoided carbs and processed sugar.
"The only sugar I ate was fruit, " she says. "The only carbs I ate were whole grains, so it was brown rice, millet, quinoa and quinoa noodles. It started with my diet, and then I would exercise. "
Of course, yoga was key, which is why she has released her own DVD, Tia Mowry's Calm Yoga with Tara Stiles.
"Exercise is not all about trying to get to the gym and get the weight off," she says. "You also have to work on it internally. Yoga gets rid of stress. Sometimes when we're stressed, what do we do? We go grab that chocolate bar. With yoga, it made me carefree, it toned my body — I would get a good sweat out of it. It was great cardio. I was losing weight with it, and I was feeling good at the same time."
Article continues below advertisement
Another workout favorite? Piloxing, which is a form of Pilates and boxing. (Turns out, she hits the gym with Hilary Duff's trainer Vivica.)
OK! GALLERY: HILARY DUFF AND HUBBY MIKE COMRIE TAKE BABY LUCA TO THE PUMPKIN PATCH
These days, the busy mom makes sure she does yoga, Piloxing, Pilates or cardio 3-4 days per week for about an hour at a time.
"I do Monday, Wednesday and Friday," she says. "On the weekend, I'll chill. It's the same thing with my eating. Monday through Friday, I'm conscious about what I put in my body, and I think that's what's so great about yoga. Once you start to exercise, even if it's not yoga, and you start to put a lot of time and effort into your body, you're not going to want to eat just anything and everything, because you worked so hard."
Hm, how does she manage to keep exercise a priority when dealing with the daily grind of life?
"You have to make time, so what that means is create a schedule," she says. "Whenever you prioritize something, you always schedule it in. A lot of people schedule hair and nail appointments; a lot of people schedule dinners with friends. You have to make exercising a priority. You have to schedule it in your day."
Article continues below advertisement
She continues, "Once you do that, and you start to see the benefits of yoga or the benefits of exercising, whether it's 20 minutes or it's 45 minutes out of the day, you want to schedule it in, because you're see yourself feeling better and having more energy."
Catch the season finale of Tia & Tamera, which airs Tuesday at 9 p.m. ET on Style. Also, check out her yoga DVD, Tia Mowry's Calm Yoga with Tara Stiles.