NEWS
Red Carpet Confidential: Tori Spelling Gets Emotional Talking About Miracle Baby Finn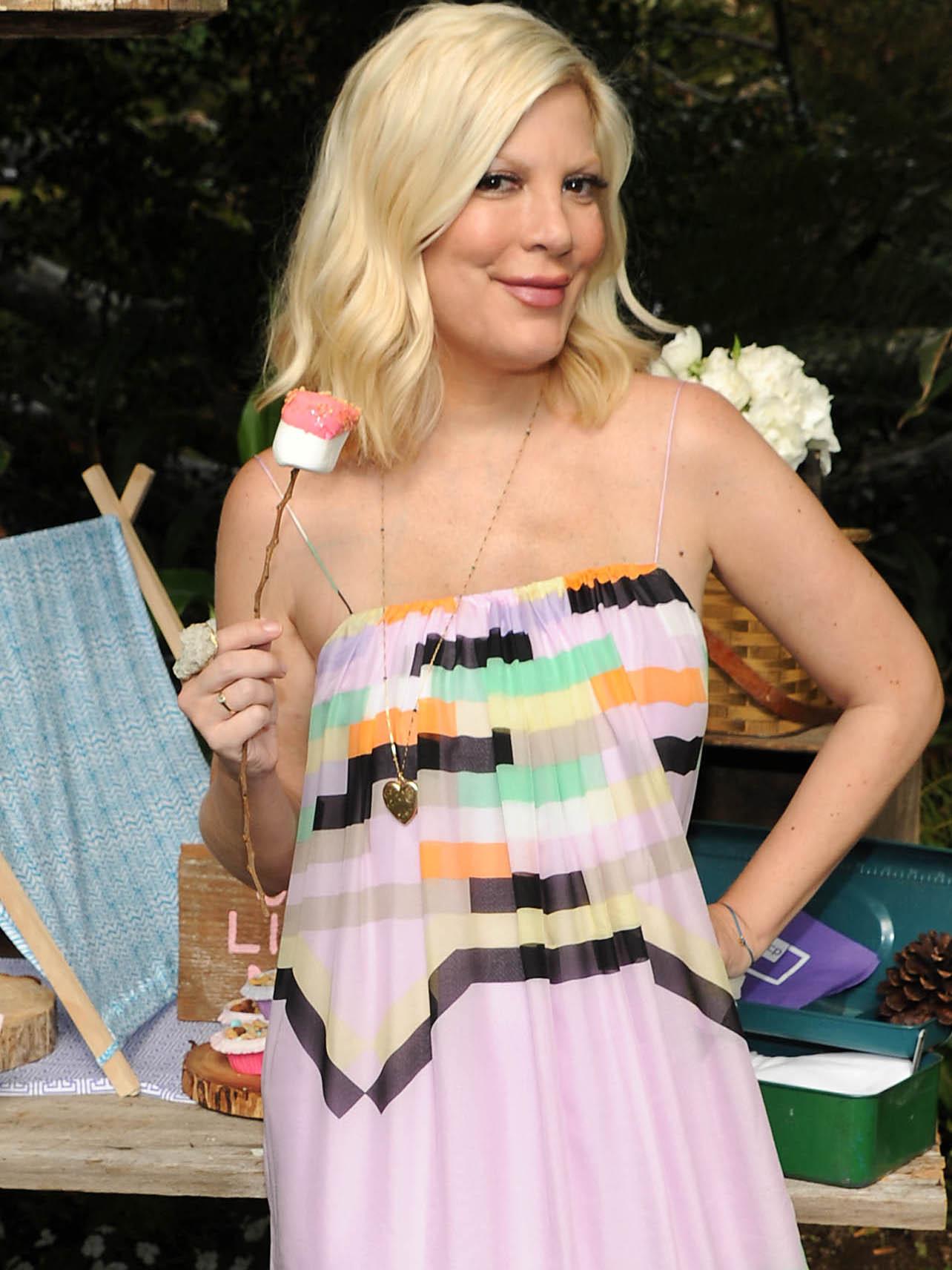 When Tori Spelling celebrates the launch of her kids' clothing line, Little Maven, at JCPenney, this week at Hotel Bel Air in California, the married mom of four is grateful to be alive after enduring pregnancy complications that threatened her life.
"I'm feeling OK," the actress and reality star, 39, tells me during the glamping-themed the event. "I'm still getting back on my feet, and moving around again, just jumping back in."
Article continues below advertisement
OK! GALLERY: TORI SPELLING SHOWS OFF BABY BUMP WITH HUSBAND DEAN MCDERMOTT AND THEIR KIDS AT LUNCHABLES EVENT
For Tori, taking care of her brood, which includes hubby Dean, 45, and kids Liam, 5, Stella, 4, Hattie, 1, and Finn, seven weeks old, has been motivation for her speedy recovery.
"I'm grateful," she says. "I'm grateful for every day that I have with my kids, and for beautiful Finn. The pregnancy was an eye-opening journey and experience, and all the more sweeter when you have the end-product, which is him."
Although her fourth pregnancy nearly cost her her life, she wouldn't change a thing.
"I don't believe in having regrets," she tells me. "We're all human; we have moments. I could look back and say 'ugh, I shouldn't have gotten pregnant as quickly, I shouldn't have done this, could this have prevented it?' But the reality is, with the condition I have, they never know exactly what causes it. It could happen in one pregnancy, and not happen in the next."
Article continues below advertisement
She continues, "Could it have happened because I got pregnant with Finn close to Hattie? Absolutely. But we'll never know that for sure. But it happened, and it was meant to happen for a reason. I don't have any regrets."
OK! GALLERY: TORI SPELLING SHOWS OFF HER GROWING BABY BUMP IN NYC
Holding her seven-week old son Finn today is all the more special.
"Oh my gosh, I don't want to cry right now," she says, laughing nervously. "You definitely have a bond with all of your children. Sorry, I'm trying not to cry. I definitely voice cracks when I look at him, and I hold him, I'm like 'wow, we went through a lot together.' "
She continues, "I think there will always be that special bond. I can't wait to tell him when he's older that he was a fighter, and he held in there, and we made it. There were times when the prognosis wasn't good, and he stayed and he fought. I fought for him, and for myself."
Ultimately, the traumatic experience served a greater purpose.
"It definitely made me realize that I'm stronger than I ever thought I was."