NEWS
Red Carpet Confidential: 'The Voice' Star Tony Lucca Spurs a 'Mickey Mouse Club' Reunion!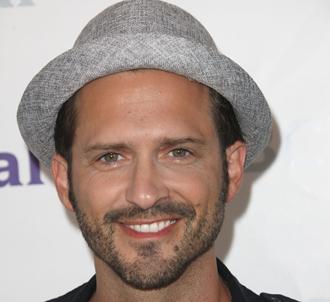 Christina Aguilera called for a Mickey Mouse Club reunion last week on The Voice after contestant and former Mouseketeer Tony Lucca performed Baby One More Time - originally made famous by their fellow Mouseketeer Britney Spears.
Could it happen sometime soon?
"I think it's a question of relevance to everyone involved," the singer-songwriter, 36, tells me. "I think JC Chasez, Dale Godboldo, Keri Russell, me, Blain Carson, Ricky Luna and Mylin Brooks, we'd like to make it happen. If everyone's demanding schedules could make it happen, we'd all jump at the chance. We'd love to see each other anchored down, and have a 3-4 day retreat and catchup session. It would be great."
Article continues below advertisement
After the Mickey Mouse Club, many of its cast members went on to achieve great success, including Christina Aguilera, Britney Spears, Keri Russell, *NSYNC's Justin Timberlake and JC Chasez and Ryan Gosling.
But before they hit the big time, they looked up to The Party, the MMC spinoff group comprised of Albert Fields, Tiffini Hale, Chasen Hampton, Deedee Magno and Damon Pampolina, who are original members of the 1989 revival.
With all the excitement, The Party has decided to reunite for a tour, their rep tells me today. My #1 favorite group of all time had hits including Summer Vacation, In My Dreams, I Found Love and Free during their 1990-1993 heyday. They released five albums on Hollywood Records, worked with Dr. Dre, and toured with Vanilla Ice. They even appeared on Blossom!
Likewise, Tony was influenced by the older teens in The Party.
Article continues below advertisement
"The Party didn't influence me musically as much as it did as an artist with how to embrace creativity," Tony says. "By them, I mean Albert, Damon and Chase. When the three of them were in a room, it could change the body language of everyone in the room. It was insane! Me, Dale and JC – to put the shoe on the other foot – we were Ryan, Justin, TJ Fantini and Tate Lynche, trying to mimic their moves. We looked up to those guys and thought 'wow. Where do those guys shop?' laughs We did the same thing. We got into where they would go in town, where they shopped and what they bought. We'd have them take us on shopping sprees all the time, and show us how to be cool. We were all nerdy, suburban kids, and these guys opened for Vanilla Ice, man. We assumed a lot of that swagger from those guys, which was cool."
He continues, "Albert Fields, vocally, he had an impact on me. His stage presence from the Mouse Club days, I was totally jacking all his moves – trying to jack his moves. To this day, he's got one of my favorite voices ever. He had an impact on me vocally. Their work ethic inspired us. They're not bulls*******. They're really working hard."
Perhaps Tony will be in the audience for one of their upcoming shows? I know I'll be there!
Article continues below advertisement
OK! NEWS: TONY LUCCA SAYS HIS PERFORMANCE OF BABY ONE MORE TIME ON THE VOICE WAS 'THERAPEUTIC'
While Tony appeared on the Disney Channel show as a high schooler from 1991-1994, the younger crew arrived as fresh-faced middle schoolers.
"It was an entirely different experience for Christina, Britney, Justin and Ryan, because it was only two years – two years, maybe too early for them," Tony says. "It was junior high time. They were hitting puberty, and how awkward that whole thing was. We were already seasoned by our junior, senior years in high school. We had our legs about us. It was cool and fun. It doesn't surprise me that those guys – not that they shy away from the whole Mouse Club thing – but on a personal note, I know it doesn't resonate with them like it does with the older kids."
OK! VIDEO: WATCH TONY LUCCA OF THE VOICE SING AN ACOUSTIC VERSION OF 'DEATH OF ME'
Tony fondly remembers the good times backstage on the show based at Disney-MGM Studios in Lake Buena Vista, Fla.
"Justin could actually hold his own against the older kids on the ping-pong table," he says. "I think he even smoked my a** a time or two."
And of Christina, he says, "I'll never forget the first time I heard her sing."
Watch Tony perform on The Voice, which airs tonight at 8 p.m. ET and tomorrow at 9 p.m. ET on NBC. Let's get out the vote for him! Follow Tony on Twitter @luccadoes.