NEWS
Tony Lucca Says His Performance of "Baby One More Time" on 'The Voice' Was "Therapeutic"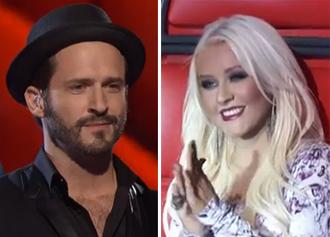 Article continues below advertisement
"Me coming on The Voice was coming full circle, The Mickey Mouse Club, and doing a Britney Spears song in front of Christina Aguilera, we just like did a lap!" Tony told Access Hollywood of last night's performance. "It was sort of therapeutic to get out there and be like, 'OK, this is my story, this moment is my whole life, let's do this!'"
Tony explained that he and his mentor Adam Levine wanted to take the song and turn it into something amazing, trying not to poke fun at what went down a few weeks ago between him and Christina.
"Shenanigans aside, we thought how could we do it musically so that it's credible and worthy of like moving onto the next level," Tony said of singing the Britney song in front of Christina. "We did that and then after that it was all icing on the cake for there to be a ton of subtext and layers of context."
And despite calling him "one dimensional," Christina backtracked and told Tony that she absolutely loved his performance, and would even consider a MMC reunion!
"You put a different twist on the song and I thoroughly enjoyed it," she gushed, after exclaiming, "Let's get Britney Spears out here on the stage and lets do a real Mickey Mouse Club reunion! And get Justin Timberlake too!"
OK! VIDEO: WATCH THE VOICE'S TONY LUCCA SING HIS SONG "DEATH OF ME" EXCLUSIVELY FOR OK!
"If Christina came in and said, 'Let's make it happen,' it wouldn't take much more to get everyone else onboard. I think it'd be awesome," Tony said of reuniting with his buddies. "I'm definitely onboard for the reunion."