NEWS
Red Carpet Confidential: The Wanted's Celebrity Crushes Revealed!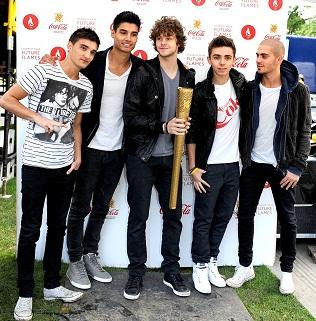 While The Wanted's Max George declares his love for Susan Boyle in the OK! out now, the other guys have more conventional taste when it comes to their celebrity crushes.
Of course, the British/Irish boy band can start thinking big with the great success they've found Stateside with their smash "Glad You Came" and its follow-up single, "Chasing The Sun," which is featured in the Ice Age: Continental Drift movie, in theaters now.
Article continues below advertisement
SEE THE  VIDEO FOR "CHASING THE SUN," FEATURED IN ICE AGE: CONTINENTAL DRIFT
Now, they're crushes are potentially achievable!
"I like Mila Kunis because not only is she extremely hot, but I think I could sneak a beer or soft drink with you," Jay McGuiness tells me.  "I try to follow her because she's just like a whole 'nother world of attractive. I also like Jennifer Lawrence."
Siva Kaneswaran says, "Jessica Alba — always and forever, she will be mine. She has a classic look, she doesn't change for anyone, and she's always going to be that way."
Tom Parker says, "Pamela Anderson. Simple."
Indeed, life has changed for the guys who found fame in the UK in 2010 after auditioning for the boy band a year earlier.
"There are girls running after us," Jay says. "Our family now have people outside their houses. That can get annoying. But also, you have to wear a wig out. There are plus sides, too — we get to do amazing things. We can travel the world, we get free shoes, like a couple minutes ago — it's good and bad."
Article continues below advertisement
OK! NEWS: THE WANTED TALK GETTING JUSTIN BIEBER DRUNK & HINT TO GOING ON TOUR WITH THE "LITTLE LEGEND"
At concerts, fans seem to have found a choice target in Siva.
Jay says, "Siva actually had a pair of knickers thrown on top of his head. He's probably got about three dozen."
Who's the greatest girl group in UK history — Spice Girls or Bananarama?
"Bananarama, while excellent, never matched the Spice Girls and the characters those five women represented," Jay says. "Also, Vicki Beckham is now a star in her own right. Geri Halliwell — she's as crazy as a box of frogs. And Mel C has got one of the greatest voices I've ever heard. It's got to be the Spice Girls."
As for boy bands?
"I like NKOTBSB," Jay says. "They've combined their boy-band powers into one supergroup. That's my favorite. They're doing extraordinary things, man."
Catch The Wanted's tune Chasing The Sun in Ice Age: Continental Drift, which is in theaters now. For more on The Wanted, pick up the OK! on newsstands now. The cover line is "Kourtney Kardashian: At Home With New Baby!"