NEWS
Red Carpet Confidential: Why 'Smash' Will Always Be Part Of Megan Hilty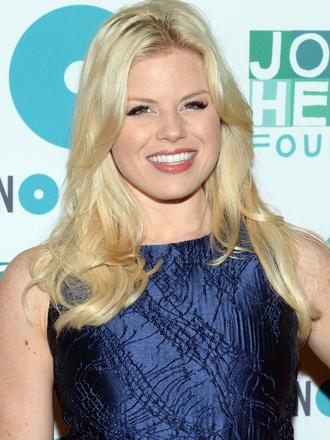 Even though the series finale of Smash airs Sunday, Megan Hilty will never forget the star-making experience.
"The show has changed my life in a million ways," she tells me during Dr. Scholl's Active Series Countdown To Summer Fitness event held at The Sports Center in Chelsea Piers in NY. "Getting to work with the people I've gotten to work with through the show, I'm so grateful. Folks on the creative team, the cast and the crew. I've made lifelong friends, like Katharine McPhee. "
Article continues below advertisement
OK! GALLERY: KATHARINE MCPHEE, MEGAN HILTY AND JENNIFER HUDSON FILM SCENES FOR SMASH IN NYC
She continues, "I got to do things artistically that I've never done before. I've never played a real mean girl like this laughs. I behaved badly, and I got to sing, dance, put on amazing costumes and work with incredible people. It really has changed my life."
The Broadway veteran, 32, who has starred in Wicked and 9 To 5: The Musical, compares and contrasts Smash to the actual theater world.
OK! GALLERY: KATHARINE MCPHEE AND MEGAN HILTY CELEBRATE AT THE PREMIERE OF SMASH
"It's similar in some ways, but of course, we have to embellish a lot to make it a TV show," she says. "There is very stiff competition, and very big personalities. What you didn't quite see on Smash is there's an awesome community in the Broadway world, too. You do these shows and you become a family, which, I would assume that if we'd gotten another season, they would've explored that."
Article continues below advertisement
The Washington native finds that performing together—whether on Smash, on Broadway, after school or even at summer camp—helps form deep connections.
"There's a level of intimacy that you develop with the people you perform with because you're so vulnerable onstage," she says. "You're giving a piece of yourself when you're out there, so inevitably you're going to build incredible bonds with the people you're doing it alongside."
Catch the series finale of Smash, which airs Sunday at 9 p.m. ET on NBC.
What will you miss most about Smash? Tweet us @okmagazine.