NEWS
Red Carpet Jail Terms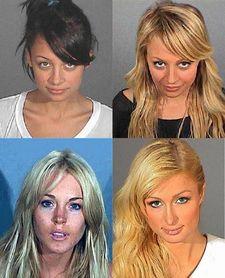 They glide past velvet ropes, maintain a stable of assistants to cater to their every need and collect thousands of dollars in freebies just for showing up at publicity events.
And now we find out they seem to have get-out-of-jail free cards for whenever they misbehave. Ah, to be rich and infamous.
was sentenced to one day in jail last week after entering guilty and no-contest pleas to drug and drunken-driving charges. If she has the luck of — who served only 82 minutes of her four-day sentence — Lindsay ought to get sprung after about half an hour. Why even turn off the car?
Article continues below advertisement
This follows the prison misadventures of , who ended up serving only about 22 days of her 45-day sentence. And that came after much hand-wringing and second-guessing following the sheriff's initial decision to spring her only three days into her bid.
All this convict coddling has many wondering if stars are getting off with wrist slaps as soon as the wrist bracelets come off. Not so, prison officials and experts say.
The L.A. County sheriff who was in charge of Nicole's small stay at the big house issued a statement after her release saying Nicole was treated "in the same manner as other inmates with a similar sentence."
And it seems to be true. Due to overcrowding, the local sheriff and district attorney established a policy last year that requires inmates to serve only 25 percent of their sentences. But even that's more than the average perp actually spends in the poky, L.A. lawyer Leonard Levine told CBS News. He said overcrowding has led to inmates often serving only one tenth of the time the court orders.
Article continues below advertisement
"Paris would have gotten out early if she was plain Jane," he told CBS News after her release. "She did as much time as a normal person would have done."
For her part, Lindsay was able to escape a stiffer sentence by reaching an agreement with prosecutors that had her pleading guilty only to misdemeanors.
And it's not just L.A. Now we have Atlanta Falcons quarterback pleading guilty to federal dog-fighting charges that involve drowning and hanging under-performing mutts. Five years in lockup is a possibility, but prosecutors say they'll suggest he serve just 18 months or so.
Too bad he wasn't busted in L.A. County, where — by the Richie rules — 18 months comes out to about a week.
By: Don Panama