NEWS
Reese: Not Marrying Anytime Soon!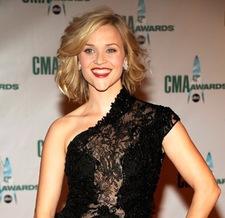 It's hard to tell when Reese Witherspoon is being completely honest about her relationship with Jake Gyllenhaal. For months after they began dating in 2007, they both denied the existence of any sort of romance, despite near-constant reports that they were indeed a couple.
So you might want to take it with a grain of salt when Reese tells Entertainment Tonight in a new interview that there's absolutely no truth to rumors of an impending wedding.
Article continues below advertisement
"I'm not getting married any time soon!" The Oscar-winner tells ET in an interview set to air Monday night.
While the mother of two wouldn't say much more about the romance, she did confess to something personal: "I'm a terrible driver… horrible," Reese reveals. "I get into car wrecks and get speeding tickets all the time. I've sent a lot of baskets to a lot of police officers."
And it's only fitting that the Four Christmases star talk about her favorite holiday traditions. "I love going to church on Christmas Eve and seeing the nativity scenes," says Reese. "I love cooking and baking gingerbread houses."
So what's the one thing you shouldn't get Reese if she's on your Christmas shopping list? "Probably work out pants, because that's a gift that's saying too much."
Check out the entire interview, Monday night on Entertainment Tonight.