NEWS
Reese or Ryan: Who'll Remarry First?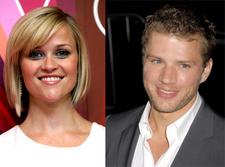 It's a race to the altar — so who will get there first? Ryan Phillippe or Reese Witherspoon?
Just days after finalizing his divorce, the hunky actor purchased a a new $7 million Hollywood Hills love nest -- equipped with five bedrooms and seven bathrooms -- for himself and his gal pal Abbie Cornish.
After finally going public with his girlfriend of almost two years at the Australians in Film Breakthrough Awards, friends of Ryan are starting to wonder if the 33-year-old is ready to walk down the aisle again.
Article continues below advertisement
"Ryan and Abbie have had their trouble in the past, but they're making things work," a friend of the actor tells OK!. "Abbie has been steady in his life for some time now, and she's looking to take the next step and make things more serious. She's not trying to pressure him to marry her, but she has talked at length about a dream wedding and that she wants her happy ending."
As for his ex-wife, Reese is happily together with her boyfriend of a year, Jake Gyllenhaal -- and she's not looking for more, for now at least. While Jake is hearing wedding bells, his Oscar-winning girlfriend is the one who's not so sure about holy matrimony.
MORE ON:
Reese Witherspoon
"Jake wants to get married, he's never been engaged and he's never been married before," a friend of the lovebirds tells OK!. "He wants to experience that, and have that high of saying vows and making it official. He's a guy that does things by the book, and I wouldn't be surprised if by the year's end he and Reese got married… it's just convincing her it's what to do!"