NEWS
Reese Witherspoon & Chris Pine Get Sweet on Set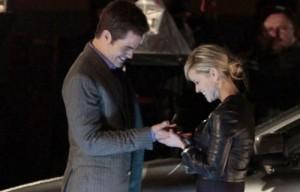 Reese Witherspoon and Chris Pine looked to be sharing some sweet moments on the set of This Means War in Vancouver yesterday — although we're sure most of them were written into the script, like as she gives him her phone number. But even off camera, the two look to be pals, as Chris had his arm around Reese in between takes.
OK! GALLERY: REESE WITHERSPOON TAKES A TOUCH-UP ON SET
It must be cold up there in Canada already, as Reese donned a puffy coat and sweats during her breaks from filming, and it seems Chris was trying to help her keep warm as well.
Article continues below advertisement