NEWS
Reese Witherspoon & Chris Pine — 'This Means War'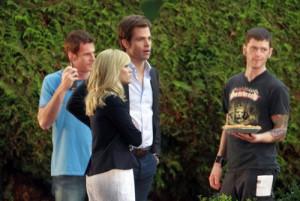 Reese Witherspoon and Chris Pine began filming their new flick This Means War on Monday in Vancouver, Canada. It looked like the co-stars were still busy blocking out their scenes. The romantic comedy is centered around two lifelong best friends who wage an war against one another after they both fall in love with the same woman. Sound original?
The film also stars Inception hottie, actor Tom Hardy.
Article continues below advertisement
Wonder if Reese's current boyfriend Jim Toth traveled to Vancouver with his leading lady?
The hot Hollywood couple were recently spotted jewelry shopping in Santa Monica!