NEWS
Reese Witherspoon on Past Relationships: "I Don't Dwell"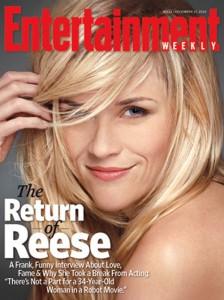 Reese Witherspoon is BACK! The blonde bombshell covers the latest issue of Entertainment Weekly and tackles topics ranging from her divorce in the scrutiny of the Hollywood spotlight, Googling herself and rising to fame in a blog-less world.
"It definitely sometimes feels like a suit that I wish I could zip off," Reese shares in EW (via Just Jared)— out on newsstands this Friday — about her divorce from husband of seven years, Ryan Phillippe, whom she has two children with, Ava, 11, and Deacon, 7. "But I don't feel bad about any of the things I've gone through, whether it's divorce or breakups or anything like that, because that's all part of the life journey, and I have those experiences just like anyone else. And I think it deepens what you tap into creatively."
Article continues below advertisement
Reese is currently dating CAA agent Jim Toth, and the happy couple is often photographed in their home base of Brentwood, California with Reese's two children. She is also coming down from a highly-publicized split with actor Jake Gyllenhaal.
"My favorite quote is from Martha Stewart: 'I have a short memory for painful things.' And I do. I have one of those incredible memories where I just erase painful things," the 34-year-old actress continues. "Maybe that's really unhealthy, and I probably need to see a therapist. But I don't dwell. You just keep going forward. Also, I have kids. What are you going to do? Are you going to teach them to be one of those people who keep looking in the rearview mirror, or are you going to teach them to be one of those people who go, 'Tomorrow's another day'?"
Reese remains level-headed amid the era of paparazzi pandemonium, celebrity blogs and a gossip hungry public.
As far as Googling herself, she shares, "Oh, only in very, very dark moments — moments of pure self-loathing — do I type my name into Google. Laughs And I know what I'm in for. You never read anything positive — you always go straight to where you know they're going to say something nasty about you."
As far as the lack of celebrity gossip blogs during the rise of her career, Reese jokes, "God, I wish I would have known — I would have done more bad s—!"