NEWS
Reese Witherspoon on Robert Pattinson Being "Dirty": "It's a Boy Thing, Right?"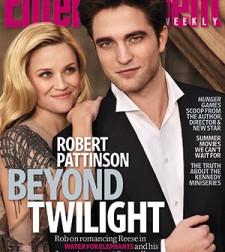 View all comments
Is it April yet? The more we read about Robert Pattinson and Reese Witherspoon in their upcoming film, Water for Elephants, the more impatient we get to see it. As adorable as Reese looks on the cover of Entertainment Weekly she's just as cute talking about her "dedicated" yet "dirty" co-star.
OK! NEWS: MTV BEST KISS — KRISTEN STEWART WITH ROBERT PATTINSON OR TAYLOR LAUTNER?
''He's dedicated. And he loves what he does," Reese told Entertainment Weekly about Rob. "It's amazing, he got such an incredible opportunity so young and he intends to use every bit of it to make creative choices from here on out.''
Article continues below advertisement
So what did Rob think of Reese?
''There's something about her," he said.  "She's just this genuinely nice person.
"I don't know if she puts an effort into creating a nice aura, but her mood dissipates over the whole set. It was a completely different environment from when she wasn't there," Rob explained. "All the kids and the animals were just drawn to her.''