NEWS
Regis Draws a Blank On Stage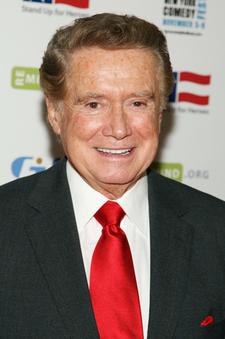 It sounds like Regis Philbin was up a little past his bedtime on Nov. 5!
Hosting the Stand Up For Heroes benefit in New York, the chat show veteran left a packed house cringing when he tried his very best to call Saturday Night Live's longest-serving star, Darrell Hammond, to the stage.
The Live With Regis and Kelly host, 77, welcomed him out saying, "He's America's best impersonator," before stammering, "…and I don't know why I can't remember his name."
Article continues below advertisement
And it was left up to an audience member to bail poor Regis out by yelling Darrell's name from their seat.
Lucky for Regis, great performances from Whoopi Goldberg, Bruce Springsteen and Ricky Gervais meant his embarrassing gaffe was quickly forgotten.
It's safe to say it wasn't the highlight of Darrell's night though.
The comic, who has done more than a hundred different celebrity impressions on SNL since 1995 -- including Regis Philbin! -- opened his set with a dejected, "I'm feeling pretty good about myself right now."