NEWS
Regis' Lil' Kim Dream to Come True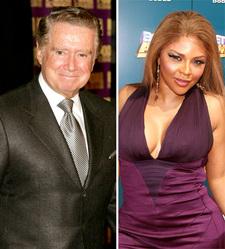 Bestill your beating heart, Reg – your crush, Lil' Kim is heading your way!
The Dancing With the Stars contestant will meet up with her admirer Regis Philbin and Kelly Ripa on Live with Regis and Kelly tomorrow morning at the Fontainebleau Miami Beach.
Lil' was bounced from DWTS last night in a move that upset her devoted fans, who booed the results and gave her a standing ovation as she left.
Regis' sidekick Kelly spilled the beans on his crush recently, telling OK!, "If anybody can get Regis to do the samba or the pasa doble, it is Lil' Kim. He is really in love with her. He's been in love with her since before Dancing With The Stars."
Article continues below advertisement
Lil' then promised OK! she had a surprise for her devotee, and Kelly made a guess as to what it could be.
"What would make him really happy is if she came on our show and maybe if she dedicated a song to him," Kelly said. "Maybe if she incorporated his named into a song? Or maybe if she tattooed his face somewhere on her person."
Guess we'll find out tomorrow!