NEWS
Regis Philbin Has Sights Set on Primetime?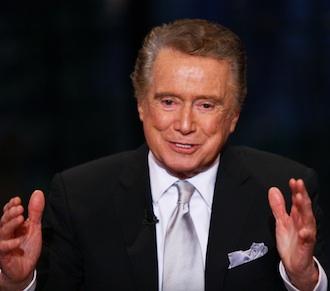 It's only been about a week since Regis Philbin said adios to his popular morning show, but word is that his return to TV will be during the night instead of day!
He told The New York Post, "We're contemplating a show that is sort of a talent show, but it involves the whole family." He mentioned it's "a family competition which is something new in our business. It's going to be on prime time when it happens." Regis has been contacted by producer Michael Manshel about other concepts, too like a variety format. "An entertainment type of show would appeal to me," he said. "Almost a variety show. In our business you don't want to say variety because it's frowned upon now, but something with people who are performing." It certainly seems the 80 year-old has no intentions of slowing down! He recently embarked upon a book tour for his memoir, How I Got This Way and recalled upon the "farewell" stuff on Live!. "I'm not retired yet I'm just moving on."
Article continues below advertisement