NEWS
Regis Philbin Reveals Last Day Hosting 'Live With Regis and Kelly'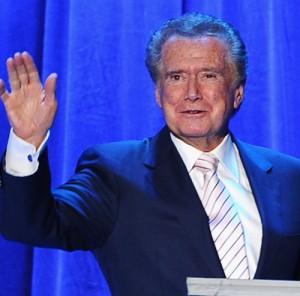 Regis Philbin has put a date on his retirement from Live With Regis & Kelly.
Regis announced Tuesday morning on Live with Regis and Kelly, as the morning program started its 24th season in national syndication, that he would be leaving his talk show home on Nov. 18.
"There is a time that everything must come to an end for certain people on camera, especially certain old people," the 80-year-old Emmy winner quipped, via Entertainment Weekly, while announcing his departure date. "Last January I made the announcement that I'll be moving on. But I never gave you an exact date. So I'm pushing it back five years. Just kidding."
Article continues below advertisement
He added: "Kelly will be trying out new co-hosts, just like we did 11 years ago when we found her," joking that she would be looking for a "new, young hot" male co-host.
Co-host Kelly Ripa, who joined Regis on the show after Kathie Lee Gifford left, will continue on with a new host. Some rumored men to fill the post — Josh Duhamel, Howie Mandel, Survivor host Jeff Probst and Dancing With the Stars alum Mike Catherwood.
Regis is a three-time Emmy Award winner, he was honored with a Lifetime Achievement Award from the National Academy of Television Arts & Sciences at the Daytime Emmy Awards in 2008.