NEWS
Regis Philbin Says He's Not "Retiring;" Regrets How He Told Kelly Ripa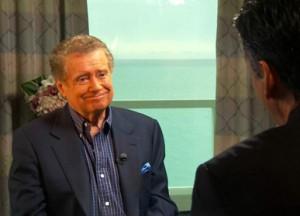 Regis Philbin says there was a mistake in how he announced his departure from Live! with Regis & Kelly and one thing he very much regrets.
OK! GALLERY: REGIS PHILBIN STILL CATCHES PRESS BUZZ IN NYC
Regis sat down with Access Hollywood to talk about how he struggles with leaving the show.
Was it hard for the 79-year-old host to leave his co-host Kelly Ripa?
"Yeah, it was. It really was because I guess maybe they felt like they deserved more time," Regis said. "But everybody said this is the way to do it and I hadn't done much of this, you know I've been there 28 years of my life."
Article continues below advertisement
"I was told by everybody within the ABC structure to do this the morning of my announcement so we all had a meeting… and I told them this was it, I was going to leave the show… I'm not going to leave right now, it's going to be at the end of the season," he explained. "I saw Kelly's eyes well up a little bit and Gelman got a little white (laughs) but it had to be done and by the time I picked her up 30 seconds before nine she was fine. You know that's the way it was going to be, but it is a sad occasion because there has been so much time together."
OK! NEWS: REGIS PHILBIN QUIT BECAUSE OF CONTRACT DISPUTE?
But Regis said there is one thing he wish he had done differently with the announcement.
"In telling everybody 'this is it, I am going to leave' I never said that I am retiring because everybody considers me leaving that show to be retiring in this business… and that's not the case."
So why is he leaving then?
"Well because I just feel like after 28 years, walking across the street, going into the same studio sitting behind the same desk, doing it day after day, week after week year after year that maybe it's time… maybe it's time I walk away and hopefully do something a little different and close it all out with that," he said.
Watch his interview below!
Tune into Access Hollywood on Jan. 27 for more of Regis' interview!