NEWS
Rejects Launch Post-Idol Careers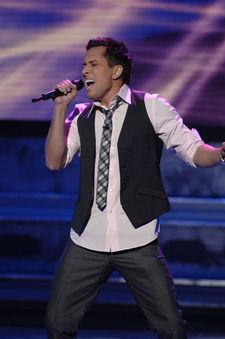 They've had time to eat a couple of Mom's dinners and wash Simon's bile out their hair. Now it's time for this season's American Idol rejects to start jockeying for position in the real contest: their post-Idol careers.
Since David Hernandez got the elbow two weeks ago he has had his sights set sky-high, telling anyone who'd listen that he was "shopping an album to major labels" and that he couldn't wait to work with Alicia Keys.
Article continues below advertisement
True to his word, the 24-year-old seems to be making a play for the big leagues so far. TMZ.com is reporting that David, from Glendale, AZ, is in New York today and is said to be auditioning for a role in the Broadway show Rent.
Show reps have not yet confirmed or denied the rumors.
In stark contrast to David's bright-lights-big-city approach, Kady Malloy and Colton Berry - who is now just a distant memory to many viewers, having crashed out of the first Semifinals show - are doing it the old-fashioned way: on Myspace.
Colton, 19, from, Stauton, VA, flew to Texas to record a version of Cyndi Lauper's 80s hit, Time After Time, with Kady, 19, from Houston. Yesterday they posted it on their pages for fans to download for free.
No 20ft billboards or CD signings for this pair - just a humble message on Kady's Facebook page (with nothing even so grand as punctuation):
"k guys go check out my music myspace (www.myspace.com/officialkadymalloy) me and colton threw together a duet and i have a new version of one of my originals called unwanted posted up there!!! check em out !!
Article continues below advertisement
"thanks everyone!! LOVE YA!!!"
Kady also announced she will be playing a cancer benefit in Tulsa, OK, on May 9th with fellow Season 7 outcast Alaina Whitaker and, as we have already reported, Colton has kickstarted his apres-Idol career by, er, directing a community theater production in his hometown.
Meanwhile Amanda Overmyer, who was voted off last week, continues to secure her reputation as the sanest person ever to take part in a reality television show. She said in a blog post yesterday that while nothing has been confirmed, "people are talking to people" about future projects. With her usual down-to-Earth attitude, she adds that she'll be happy if her biggest post-Idol show is singing to "friends around a firepit".
But votefortheworst.com is reporting that there could be much bigger things in store for Amanda than campfires sing-a-longs. There are rumours that she is to headline the world-famous Whisky a Go Go in Hollywood in the coming weeks and that there are even talks about her playing her idol, Janis Joplin, in a movie about the history of the club.
A source at the Go Go said today: "I can't confirm anything right now, but keep checking back at the Website."