NEWS
Release Date for 'New Moon' DVD Announced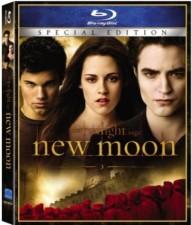 Okay everyone, get out a pen and mark down March 20, because that's the day you can finally get your hands on the DVD version of last year's most beloved film, New Moon!
While most new DVDs are released on Tuesdasy, the New Moon DVD is bucking convention with a Saturday release. At 12:01 a.m., retailers will open their doors for special sales of both the two-disc Special Edition (est. retail price $32.99) and a Special Blu-Ray edition (approx. $34.99).
Article continues below advertisement
Both versions are packed with bonus features, including audio commentary with director Chris Weitz and editor Peter Lambert; a 6-part documentary that takes you behind the scenes; exclusive band rehearsal footage with Muse; and music videos from Death Cab for Cutie, Anya Marina and Mute Math.