NEWS
Remembering Brittany Murphy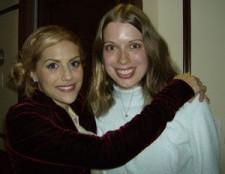 When news broke that Brittany Murphy died Sunday at age 32, I was stunned. She was the bright, beautiful star I had the pleasure of getting to know during press junkets for 2004's Little Black Book and 2006's Dead Girl – to which she was running a few hours late due to "celebrity issues," the rep said at the time.
When I first met her at the 2004 hotel roundtable, I was awestruck by her enthusiasm. She had a zest for life I greatly admired. Even with her "celebrity issues" – whatever they may have been – she was still able to turn on the charm two years later. Nothing seemed to get Brittany down.
Article continues below advertisement
In this interview from December 2006 – six months before she wed Simon Monjack -- Brittany riffs on motherhood, family, future plans and her favorite role -- playing Luanne on King Of The Hill.
Brittany denied she was constantly in work mode, even though she had made 35 films in 10 years.
"When I'm at work, I'm in work mode," she says. "When I'm not, I'm not at all – even a little bit. Having that balance in life is important. I have a very grounded, strong, normal -- whatever normal is actually – I don't know that there is such a thing – I'm very close with my family. I stay at home pretty much with my family and my nieces and nephews. That's what I do in between working. That's what I come home to at night. I have eight ½ nieces and nephews – that's the important stuff in life. Being with my family and the health of my family."
The actress who once romanced Ashton Kutcher "definitely" counted motherhood as being part of her future.
"I always have because I think it would be an extraordinarily fun, enlightening, amazing experience to say the least," she tells me cheerily. "Obviously I'll have more intelligent things to say about it once I do become a mom one day."
The actress scored a U.K. hit with Paul Oakenfold in Faster Kill Pussycat in 2006.
Article continues below advertisement
"He had seen me perform anonymously – some jazz music – and we became friends," she says. "I went into his studio for twenty minutes and recorded some vocals. About a year later he asked me if I'd put my name on it. I"d been recording anonymous vocals since I was 14 years old. I'm 29 now, and I went 'OK, I'll put my name on it.' It's not indicative of my style of music, but I'm proud of Paul."
Starring in a musical was a possibility.
"I love to sing very much," she says.
Most of all, Brittany was pleased with her role on King Of The Hill.
"I think it's the greatest show on television," she says. "I feel very grateful that we're still on. I never want Luanne to wrap up. If I get to play Luanne the rest of my free-floating life, I'd be thrilled to death. Or thrilled to life. That's such a wonderful job, it really is so fantastic and it's such a wonderful show."
Article continues below advertisement
One thing is certain: Brittany had a thirst for knowledge.
"I'm not an in-one-ear-and-out-the-other type of gal at all. When I learn about something or read something or I'm taught something new, I will always retain it."
What did she hope to achieve in the New Year?
"To learn as much as I possibly can, to be the best human being that I can be, to spend as much time with my family as possible, to make the best art that I possibly can, to love the best I possibly can."
Our thoughts are with Brittany's family and friends during this difficult time.