NEWS
OK! Exclusive: Renee Graziano And Big Ang Talk Secrets Of Mob Wives's Season 5, Reunion Show Spoilers And "Fraud" Natalie Didonato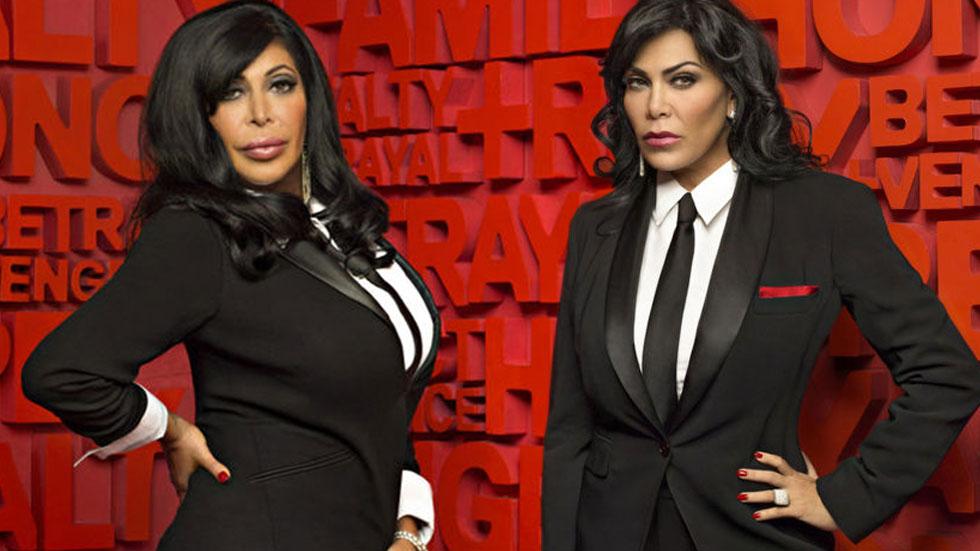 Mob Wives fans are mostly in agreement that the show's Season 5 finale was a bit of a letdown. After appearing to hype up a major brawl between Natalie Guercio and Natalie Didonato, the Mar. 4 episode fizzled into nothing more than another screaming match between the two ladies.
OK! EXCLUSIVE VIDEO: Mob Wives Renee and Karen Reveal The Major Secrets We'll Learn About Their Castmates On Season 5
However, while speaking to OKMagazine.com shortly after the finale, Mob Wives vet Renee Graziano revealed that she purposely kept Didonato from confronting Guercio in an attempt to keep the feuding pair from ruining the party she held to celebrate renewing her faith. "I kept telling her, 'Don't get up! This is my party. It's a happy thing,'" Graziano recalled in her unmistakable Staten Island accent. "I tried to control it as much as I possibly could. I was trying to do the right thing in a situation that could have gone horribly wrong."
Article continues below advertisement
VIDEO: WATCH Nene Leakes And Cynthia Bailey Argue During Heated Therapy Session In RHOA Clip
But those weren't the only secrets the reality TV star spilled about the show's tumultuous fifth season when she joined her castmate Angela "Big Ang" Raiola to chat with OKMagazine.com! Ahead of their Tribeca book signing on a snowy afternoon in New York City, the dynamic duo shared their thoughts on the Natalies' nasty feud, what to expect from the two-part Mob Wives reunion show and if they really think Natalie G. is a rat.
OK!: What was your reaction to so many fans being disappointed that a fight didn't happen between Natalie G. and Natalie D. during the finale?
Renee Graziano: We have some crazy people watching our show! Just kidding. We love our fans!
Big Ang: They wanted a fight!
Graziano: But for me, that was disappointing that she would bring -- especially after me trying to put it all together -- ten people that obviously were there for a problem. We went from Thanksgiving and me saying I'm going to be civil, which is huge for me, to another smack in my face. She has mentally exhausted me.
Article continues below advertisement
Ang: She's exhausted everbody!
OK!: A lot of people blasted Natalie D. for waiting until Natalie G. had left the party before she confronted her. Did you think that was a weak moment for her?
Ang: I'm not defending Nat D. I think she's a fraud.
Renee: I would not let it happen. You want to go beat each other's ass, be my guest. Do it outside please. I don't care if they did it, but not here in this room.
OK!: Big Ang, you said that you didn't believe the recording that the other ladies said proved Natalie G. was a rat.
Ang: I never heard it, and I still didn't hear it.
OK!: Was it tough going against your girls when they all thought it was authentic?
Ang: They were going to put it on and the production stopped it.
Graziano: It's against the law in the state of New York. We could let each other listen to it but you can't put that out.
Article continues below advertisement
OK!: Did not being able to hear the tape shape your views on the situation?
Ang: That's their thing. From what's she's saying, her ex-boyfriend beat her up. She called the cops.
Graziano: If that was what the tape said. But the tape did not say anything like that. The tape basically said that he was in Atlantic City partying, she got jealous -- straight admitted to it -- and then called his parole officer and had him violated. And you basically put somebody in jail. So that's not okay. I think that Natalie and her boyfriend London Rene happen to be regular people just trying to make it like they are not. I don't think they are too much into the mob thing.
Ang: He's a regular nine to five kind of guy.
Graziano: But you can't pretend to be something that you're not. Don't be a tough guy if you're not a tough guy. Don't tell someone to meet you in the club and then they show up and cut your face, because that's that story. It was horrible, but don't invite trouble.
OK!: Do you think Natalie G. was inviting trouble when she brought those extra guests to the party?
Article continues below advertisement
Ang: I would say yes. If you came with ten people, you came there thinking there was going to be a problem. That's a lot of people.
Renee: And they didn't even bring me a damn gift!
OK!: What about the flowers that London gave you?
Graziano: I left them there because I felt that they weren't sincere. They were magnificent roses. But what was behind them was 10 people, 10 strangers, so that was not a sincere gesture.
Ang: Maybe she was scared?
Graziano: Of course she was scared. But didn't we all have situations that we all had to fight on our own.
Ang: She was scared and didn't want to admit it. But you came with 10 people that were not invited. So right then and there you're wrong. I even told her that.
Graziano: She could have just said, "Renee, I'm afraid," and I would be like, "Okay. Cool. I get it because you're going to get your ass beat!" I would understand that.
Article continues below advertisement
Graziano: But she would never let you smell that because she's so hard.
OK!: Natalie G?
Ang: Yeah, very hard.
Graziano: She has to get rid of that bull sh—.
Ang: The things that come out of her mouth, I've never heard half of the things that this girl says. She hits below the belt.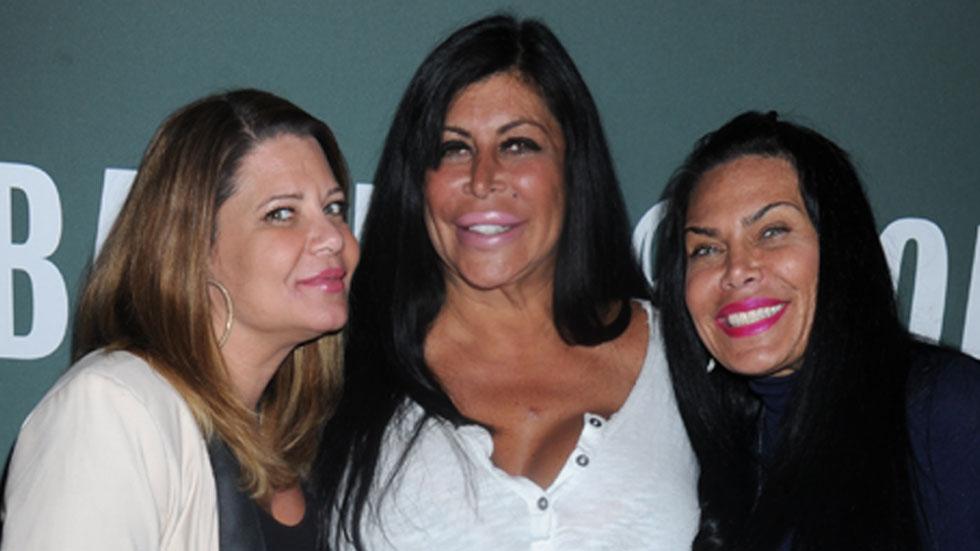 OK!: Renee, does being around the drama of the show conflict with your recent spiritual awakening?
Graziano: A lot of people had comments on it like, "All of sudden you want to be Christain." First of all, I'm Catholic. I did not change religions. God made me Catholic, and that's what I'm going to remain. What I did was renew my faith within because I started to lose faith within myself, and I was slipping to a point that maybe I wouldn't come back from. So it's that serious for me.
OK!: And how are your son AJ and his girlfriend?
Graziano: I think she's wonderful. I did not like his first girlfriend at all. But Andrea is a good kid. I would love to see it work out. But they're kids. He's 21, and I want him to experience life and her as well. But it would be nice because I know where she comes from. And I know her family.
OK!: What about your son AJ, Big Ang, did he ever move in?
Article continues below advertisement
Ang: AJ didn't move in. I'm still trying to convince him because my bedroom isn't ready upstairs. I'm just building it now. But hopefully when he sees it's done, he'll see that three bedrooms are empty on one floor, and he can have all three of them -- because God knows he needs them!
Graziano: I just noticed that when both of us talk about our sons we just have these smiles on our faces. It changes the whole vibe. They are both like our AJs.
Ang: It's always something with AJ. He always gives you are run for your money. He's a lot of work!
OK!: But you still want him around.
Ang: Of course! Always!
And what about both of your books? (Big Ang's self-help book Bigger is Better and Renee's erotic novel Playing With Fire)
Graziano: Mine is about sex.
Ang: And mine is just my life story. But I'm ready to make my cookbook!
Graziano: I think the erotic novel for me was like the fun part because I get to step out of the shell. I'm not Anthony's daughter for a second. I'm the filthiest thing. I can write what I feel and tell a story I wanted to tell the way I wanted to tell. Now I've just got to find myself a Nick.
Article continues below advertisement
Ang: And why'd you pick the name Nick?
Graziano: Because all the other names I said sounded like certain guys and we couldn't use it. I never dated a Nicholas or had nothing to do with a Nick, so we ran with that one. Otherwise somebody would have thought it was them.
OK!: The reunion this year is two parts. What can we expect for the second part?
Graziano: There is a lot of truth telling. And I just hope it gets edited to where you guys are getting to hear the entire truth. Vivica A. Fox hosted, and she's fabulous. We got the best person to control it. She kept me on my chair. I had one foot because I was all casted up on one leg.
Ang: She was great!
Graziano: At one point, she got extremely upset because the conversation that was going between the women. Drita, Angela, me and Karen sat back and just didn't even talk.
Ang: Because there are things that come out of Guercio and Didonato's mouths that are disgusting. They don't care about anything.
Graziano: There's hatred there. I don't have hatred like that.
Ang: And they don't even know each other. How do you hate someone so much you don't even know!? They are two of a kind if you ask me.
Article continues below advertisement
OK!: Well that definitely opens the door for a crazy sixth season.
Graziano: No, I won't be having that next season. Even if the old Renee has got to come back, I'm going to step outside, have a conversation with God and control that. There needs to be a line of respect. And if those two girls want to do whatever they want, they have to do it on their own. In all honesty, this is way deeper. This is more about family, what has happened to our lives because of the lifestyle we chose. This aint' about a bunch of girls fist fighting, calling each other bitch and whore. It's not about that.
Ang: We want it to be about us.
Graziano: We want to bring it back home. I think we lost it this season, and I can't have that.
You can tune in to part two of the Mob Wives reunion special on Mar. 18 at 8 p.m EST on VH1!
What did you think of the latest season of the Mob Wives? Tweet us @OKMagazine or let us know in the comments section below.