NEWS
REPORT: Angelina Jolie Says Fidelity Isn't Essential in a Relationship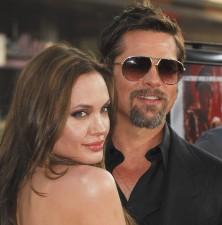 Unafraid of courting controversy, Angelina Jolie has shared her unconventional approach to relationships: Couples don't need to be monogamous, says the Mr. & Mrs. Smith star.
The mom-of-six told Germany's Das Neue magazine via Britain's The Daily Telegraph: "I doubt that fidelity is absolutely essential for a relationship. It's worse to leave your partner and talk badly about him afterward.
Article continues below advertisement
"Neither Brad nor I have ever claimed that living together means to be chained together. We make sure that we never restrict each other."
She admits that she and her partner of five years have a passionate and sometimes tempestuous relationship admitting the "sparks fly at home."
There weren't too many sparks during the Jolie-Pitts' lunch break in Manhattan yesterday. The family — sheltering from the cold in Midtown's Café Metro — were almost unrecognizable wrapped up in their winter wear.