NEWS
Report: Aretha Franklin Has Cancer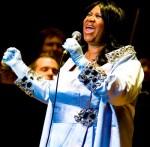 After a magazine story this week claimed that Aretha Franklin has incurable pancreatic cancer, a new report out of Detroit cites a relative of the Queen of Soul that she does in fact have cancer, and that the family is "very concerned."
Fox 2 News in Detroit (via PopEater) says one of Aretha's relatives shared the news, adding that she is doing "OK" but that they're seeking prayers and thoughts from the community.
Article continues below advertisement
OK! NEWS: ARETHA FRANKLIN CANCELS CONCERTS FOR NEXT SIX MONTHS
After canceling her concerts through May 2011 for "medical reasons," Aretha was hospitalized last week, with no reason given at the time. She underwent surgery, which was then called a success.
OK! NEWS: ARETHA FRANKLIN WRANGLES HALLE BERRY FOR BIOPIC
After her hospital visit Aretha issued a statement:
"The surgery was highly successful. God is still in control. I had superb doctors and nurses whom were blessed by all the prayers of the city and the country. God bless you all for your prayers! -- The Queen of Soul, Ms. Aretha Franklin"