NEWS
REPORT: Brittany Murphy Buried at Forest Lawn Funeral Service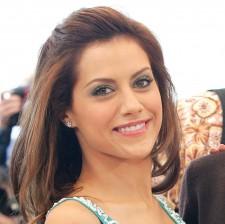 Following the shocking death of actress Brittany Murphy last weekend, her body was taken to Forest Lawn Memorial Park in Glendale from Cedars- Sinai Medical Center in L.A., where her family laid the 32-year-old's body to rest this afternoon.
With guests including family members and close friends arriving at 2:30 PM the day before Christmas, a memorial service was held for Brittany in a painted building on the highest hill in the cemetery.
Article continues below advertisement
As police lined the roads at Forest Lawn, Brittany's body was put in an elite section of the burial ground, "Bright Eternity."
Murphy's mother, Sharon, and friend Eric Balfour stood by throughout the Christmas Eve service and burial.
After all was said and done, Sharon, along with Brittany's husband Simon Monjack, traveled back to the starlet's home above Sunset Plaza.
Brittany was found in her West Hollywood house on Sunday unconscious in the bathroom.